Welcome to the SpellQuiz Report's Page on Online Spelling Tests
Here you will be able to access the progress report of all activities you have carried out since you started using SpellQuiz phonetics learning system.
This page is IMPORTANT for monitoring your progress.
Understanding your report
The report is segmented into two sections: Summary and Topics Covered.
We are providing a sample image for you to see the benefit of these reports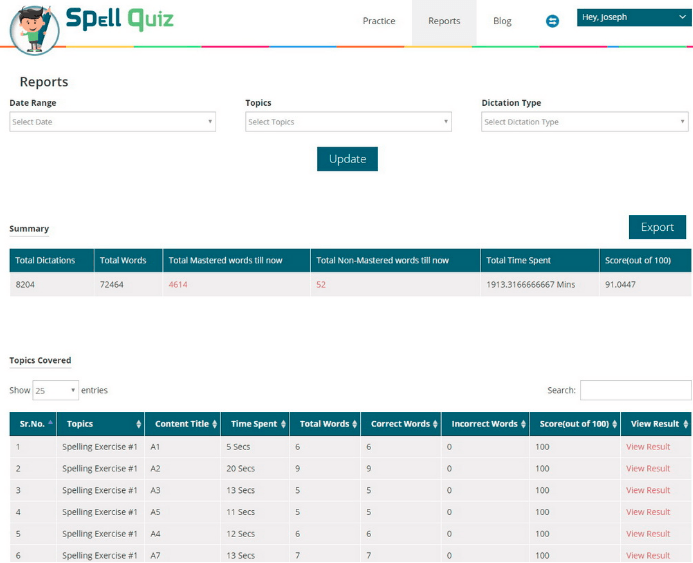 Summary
Description of the columns in the Summary section:
Total Dictations – number of the online spelling tests taken by the student
Total Words – number of the words practiced through English listening exercises
Total Mastered words – number of vocabulary words learned by practicing English spelling words
Total Non-Mastered words – number of difficult spelling words that the student needs to practice again
Total Time Spent – total time spent on both English listening exercises and typing practice online
Score – Average rating achieved during listening skills training
Topics Covered
A detailed report of all activities up to the time of viewing the report.
Serial Number – The serial number of when this particular online dictation exercise is taken
Topics – the name of spelling exercise taken
Content title – the name of online spelling test attempted
Time Spent – the time spent on spelling activity
Total Words – the number of spelling words in the test
Correct Words – the number of common spelling words learned
Incorrect Words – the number of tricky spelling words that need additional practice
Score (out of 100) – score for each particular test including spelling, grammar and punctuation
View Result - the option of viewing the exact result of spelling activity in a page view
The report also offers an option to export the report, so you can have it in a readable document format to share with other people if you like.
Please take special note!
If you do not see your report, it is either you do not have a registered account or you forgot to login into it.
To get registered account simply go here:
Email Reporting
It is strongly advisable to subscribe to email notifications on your child progress as per image below on Report page.
You can change the frequency of notification from daily to weekly, monthly, yearly.
It can be done only under Parent`s account.

Championship
Also, the student can know where he stands across the community of all students by the number of words learned.
It is a great and healthy competition, which is visible only to registered accounts.