Spelling Classroom is one of the most popular destinations for the parents and teachers for spelling and vocabulary practices, especially in the USA. The kid-friendly interface and the wide variety of games and activities are the core reasons behind the popularity of this learning platform.
However, as Spelling Classroom is a premium platform without any freemium features, you need to have a detailed idea before spending.
As you can guess from the title, we're going to make a detailed Spelling Classroom review today. Furthermore, as SpellQuiz and Spelling Classroom both serve as spelling and vocabulary building platforms, we're going to do a head-to-head comparison too. Hopefully, the comparison will help you choose the best platform for your child or students.
The article is divided into the following sections so that you can easily navigate through the review parameters more conveniently.
What is Spelling Classroom?
Spelling Classroom Review: Using Spelling Classroom Firsthand
Scopes of improvisation for Spelling Classroom
Best alternatives to Spelling Classroom (paid and free)
SpellQuiz vs. Spelling Classroom: a direct comparison
What Is Spelling Classroom? A Brief Introduction
Spelling Classroom is an online educational platform for K-12 students that specializes in — spelling and vocabulary. Spelling Classroom features a gamified environment where students can learn through 31 interactive modules. These learning modules include games like hangman (Hang a Bot) and crossword puzzles.
The platform has over 2,600 premade wordlists, you can make custom lists too. Apart from the spelling and vocabulary learning modules, Spelling Classroom has a plethora of reward games, printables for offline learning, and sentence and paragraph writing segments.
Different segments and learning modules are able to teach over 50,000 words. As most native speakers have an average vocabulary size of 20,000 words, the word bank of over 50,000 words seems adequate enough.
As for subscription pricing, you can either go for family packages or classroom packages.
A family package costs from $49.98/year to $62.48/year based on the number of students. The family package supports up to 5 students.
The classroom packages, on the other hand, cost from $99.98/year to $272.98 based on the number of students. You can have 25 to 100 students learning with Spelling Classroom in the classroom packages.
Now, you should also remember that Spelling Classroom is not a freemium platform. Meaning, none of the features are available for free. But you can try out the demo or unlock all the premium features for free for 14 days.
All in all, Spelling Classroom seems like a great platform for improving the spelling skills and enrich the vocabulary of your students. However, we know that a mere overview doesn't offer much help while deciding whether you should go for a premium subscription or not.
We need to dive deep into this spelling classroom review and see how does it feel to use Spelling Classroom firsthand.
Are you looking for creative ways to spell words? Here's guide with a large collection of unique spelling ideas. 
Spelling Classroom Review: Using Spelling Classroom Firsthand
A Teacher or Parent Creates the Main Account
Once you sign up and log in, the homepage immediately changes with numerous new menu options added on the top menu bar. The platform asks you to add students as you'll be operating the platform as a teacher or a parent.
This what the homepage for a teacher looks like —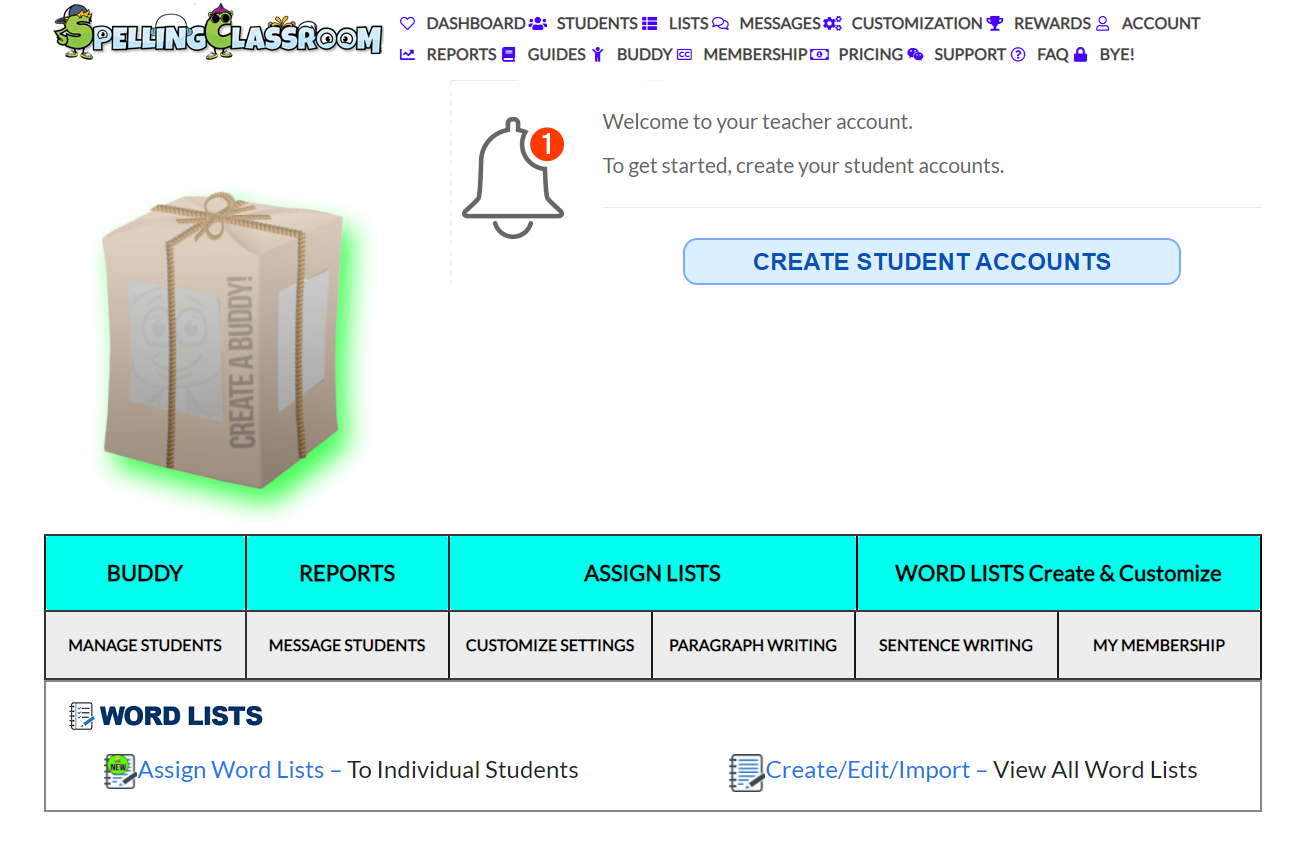 How Do Things Start for a Student?
After you have created accounts for your students, they will have to log in to get access to the activities. As your student logs in, she will see the following screen —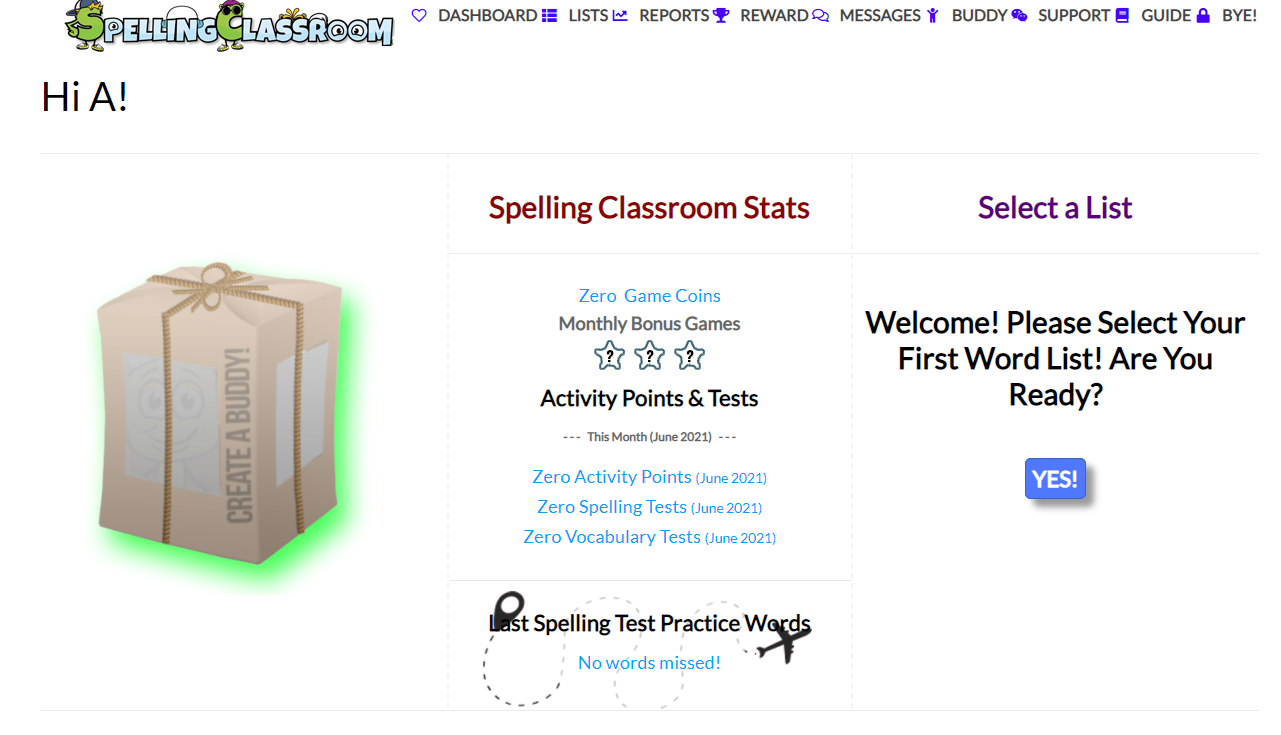 The student will first create a Buddy or an online avatar to get started with the activities. They can choose physical attributes, clothes, and even a cute pet from the given option. Here's an example —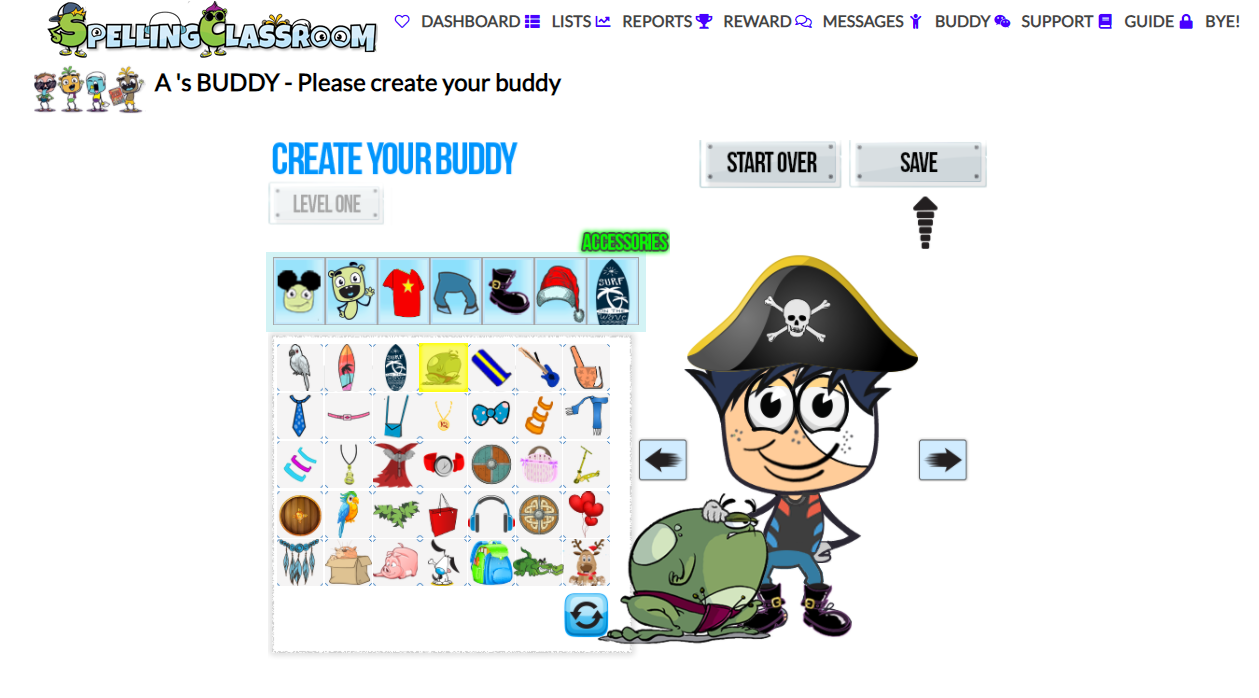 Then, the student should head over to the spelling list, she can either pick a pre-made list from them or you (the teacher) can create one for them. After picking a list, she will find a new window where she could participate in any spelling lesson, vocabulary lesson, or handwriting section.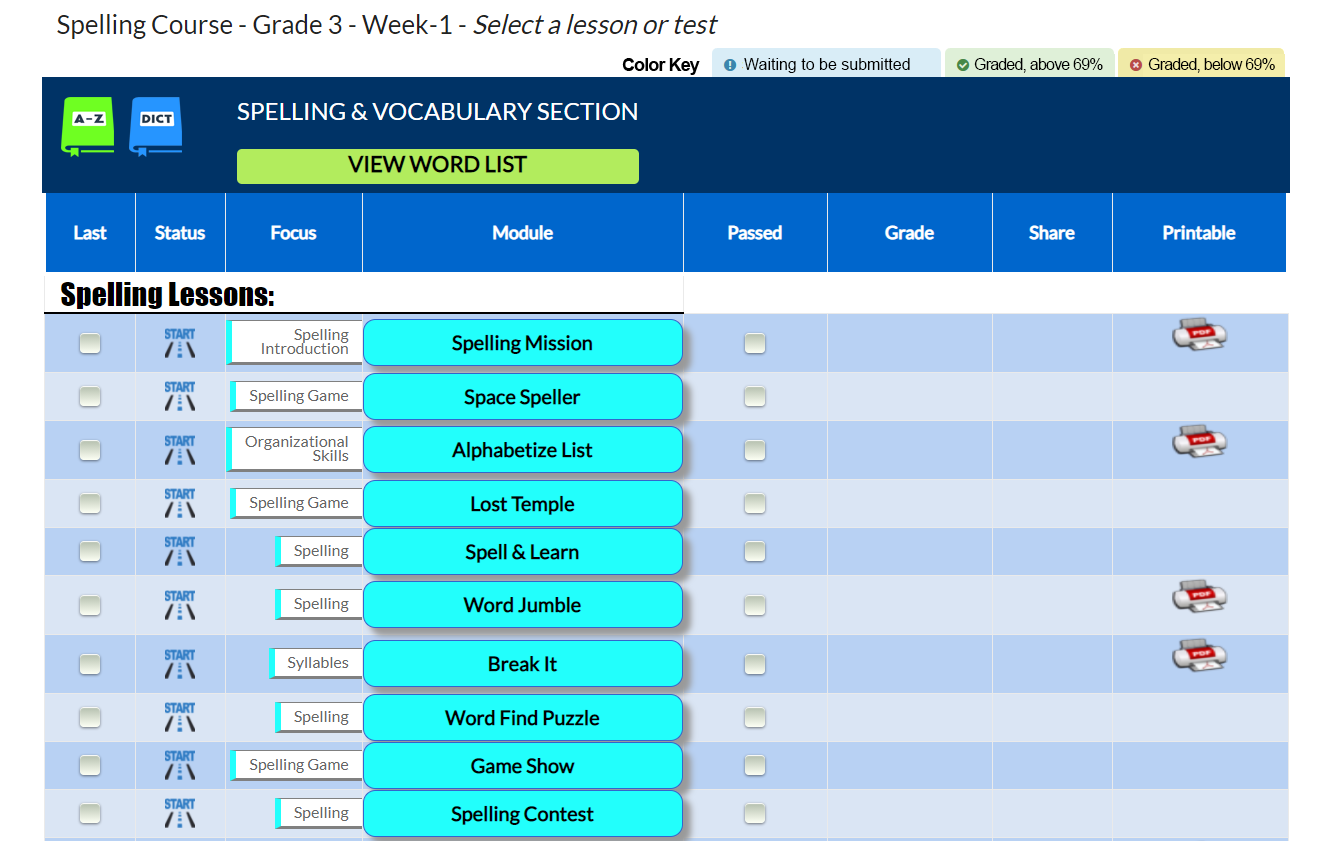 All of the lessons have a gamified environment. Meaning, these lessons start in the same way a video game starts. Such an approach might motivate her to participate in the games.
How Does the First Module Feel Like?
For example, the first game, Spelling Mission, begins in the cockpit of a spacecraft and tells that student has found a new planet. Then, the screen automatically shows someone landing on a planet and exploring different English words.
However, in reality, the module only presents them with fifteen new words from the list. The student doesn't have to do anything but listen to the words, their spellings, and usage in a sentence.
Here's how it looks like —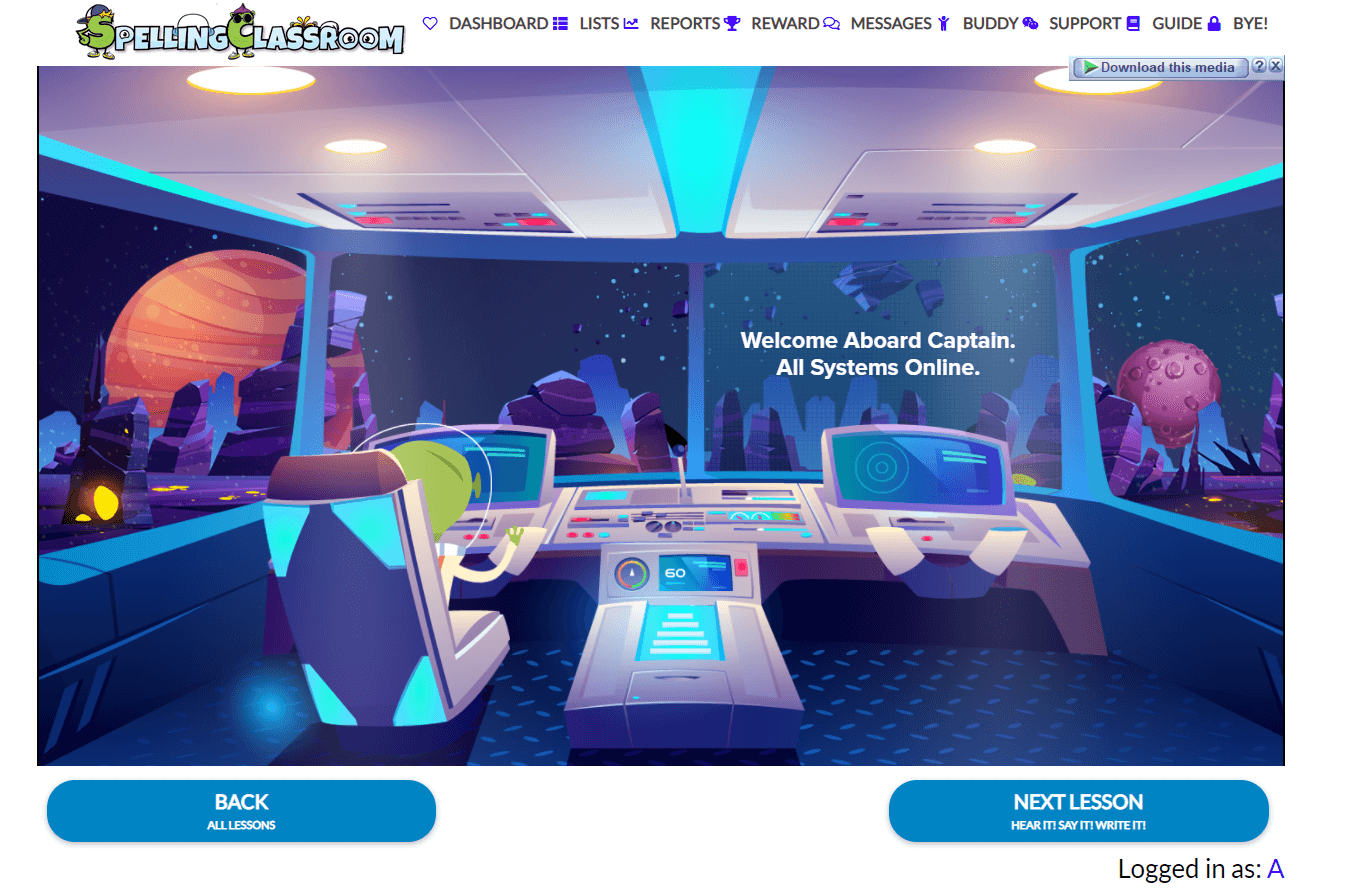 Although there's an issue with the first game. Despite the interesting approach, a student doesn't have to do anything but listen. In a real game, on the other hand, a player has to do something, like — pressing certain buttons or navigate with a mouse pointer.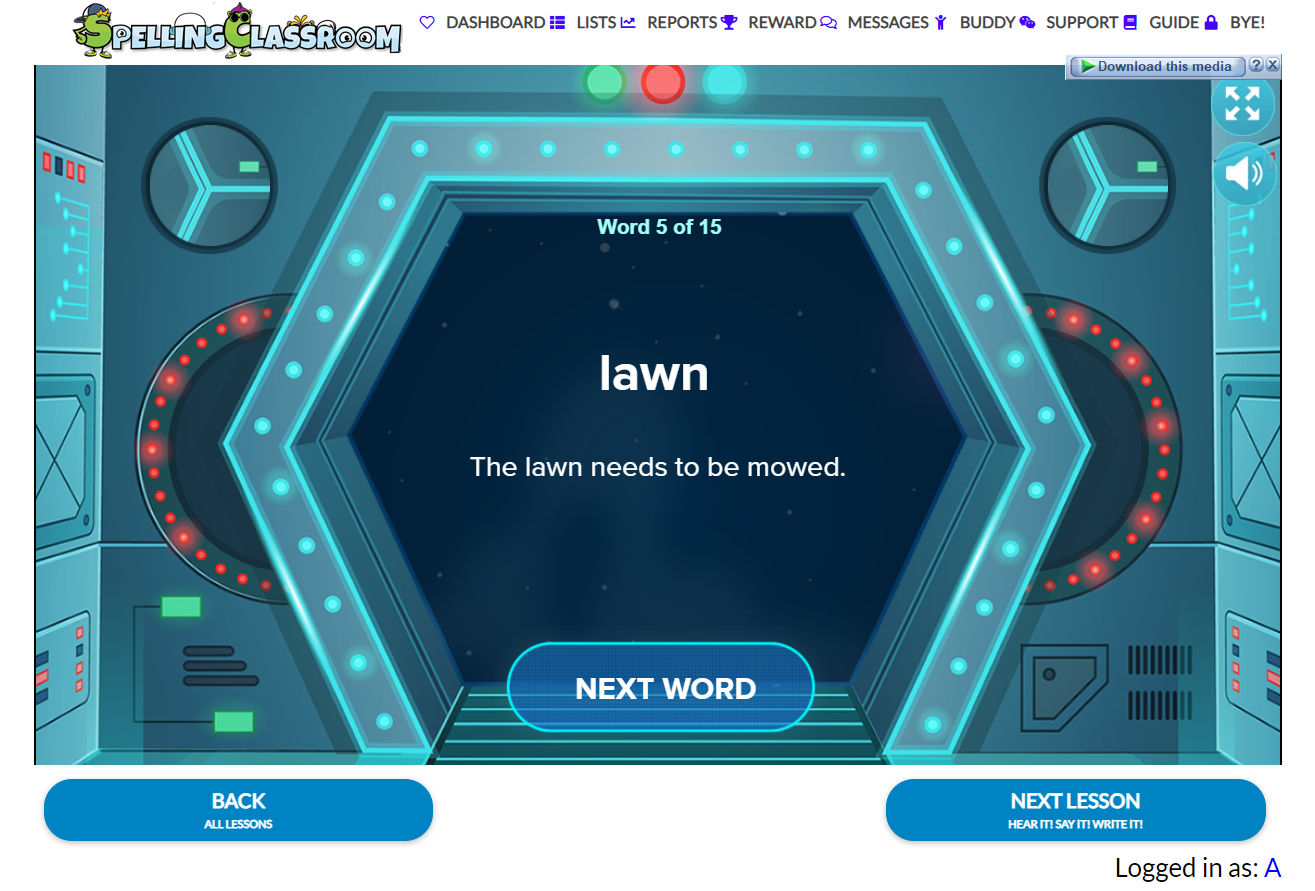 In Spelling Mission, the player has nothing to do but listen. This can be a bit confusing. We have seen students getting confused in actual practice asking us what to do here. They could have given instructions for clarification.
Fun or Confusing?
As we moved on to the next game, the student felt more comfortable. Being a third-grader, she was well-acquainted with the fundamentals of some video games. That's why she enjoyed Space Speller very, very much.
She loved hovering in a spaceship and collecting the letters to form a particular word. We loved how her face glowed with happiness and fun.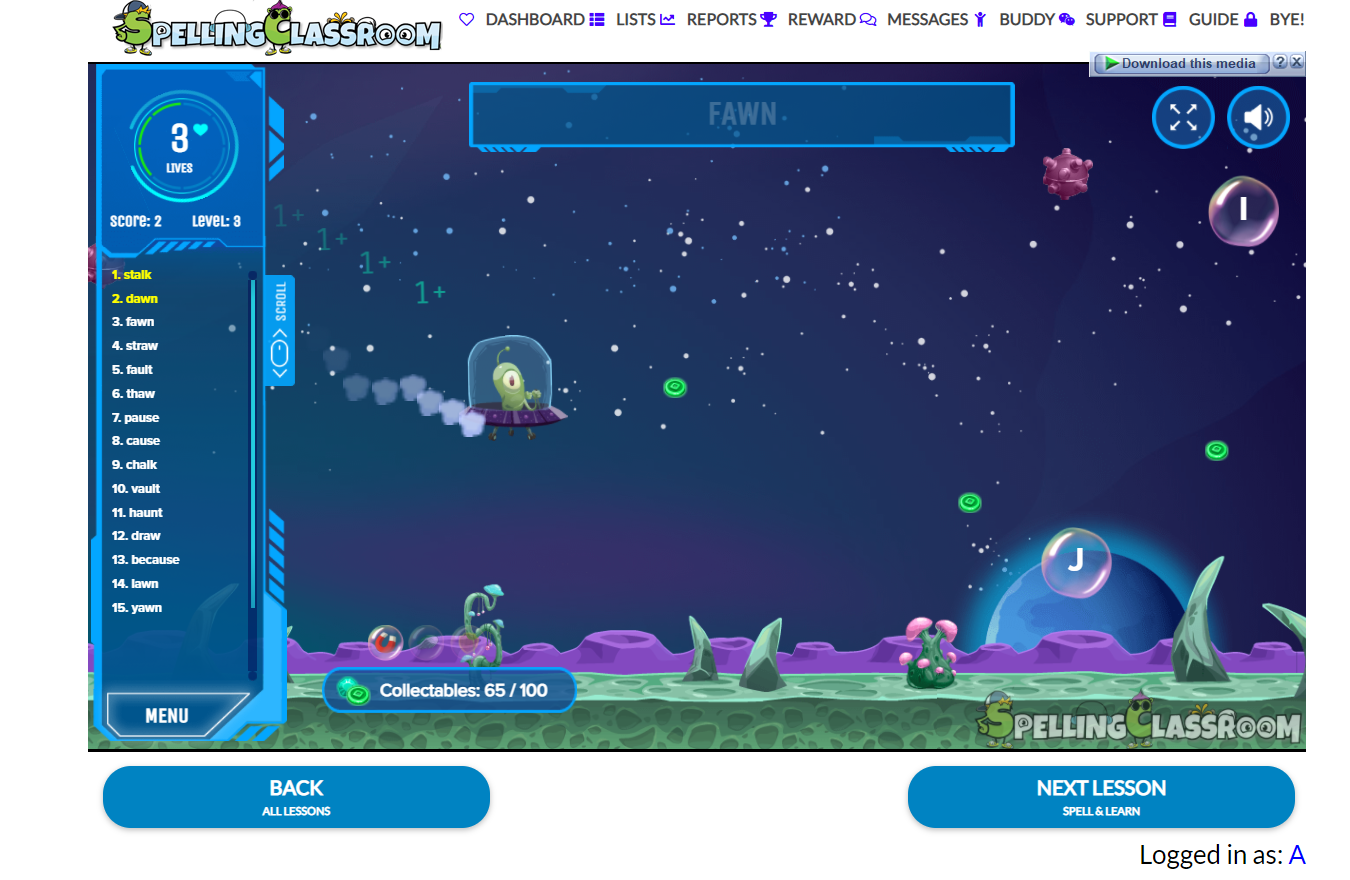 After finishing this game, she instantly jumped over to the next one — Lost Temple. She loved how this new game looked like. However, she again rushed to us asking for help. The target of the game was to find the word chests and avoid Yeti monsters — the instruction seemed simple.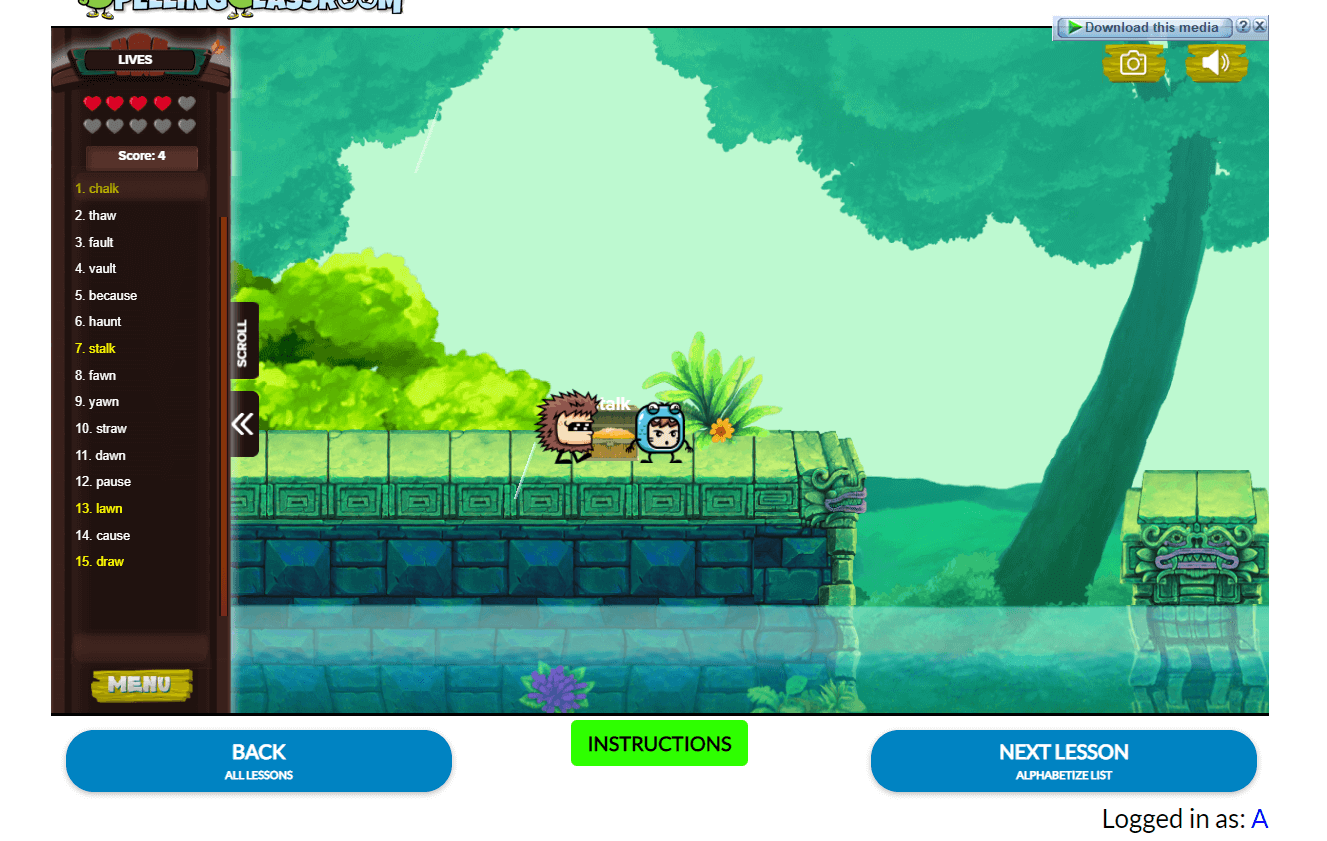 However, the gameplay was clunky and confusing. The player control mechanic seemed too complicated for her. Even we needed a few try to fully understand how to control the player. Also, we failed to navigate properly and find the chests without losing all our lives.
You should know that we're millennials with a knack for video games. Even we thought the game was too hard!
Want to find smart ideas on how to learn spelling? Check out this detailed guide.
What About the Tests?
You should know that Spelling Classroom is not only a place for lessons and games. Your student could take part in spelling and vocabulary tests too. Basically, the lessons and games repeat the same words from a list so that students get to practice the words through spaced repetition.
The spelling test is pretty straightforward. You will hear a word and it being used in a sentence. The goal is to write it down on the textbox without making any spelling mistakes. This is exactly the same as the spelling test on SpellQuiz.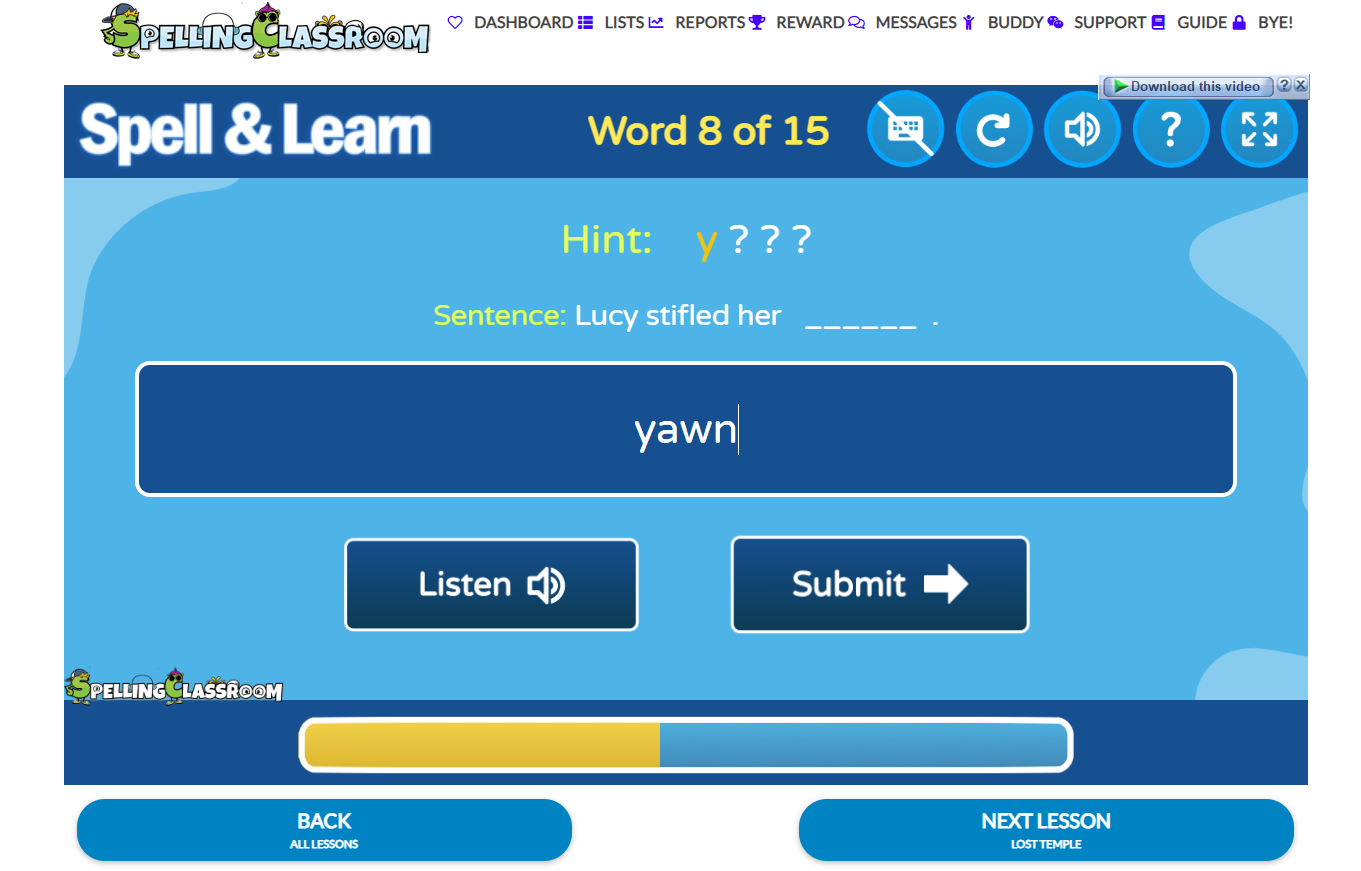 Your student must get 70% marks to pass the test.
For the vocabulary test, the students get definitions of words and they will have to choose the correct word from the six given options. This section also has a cut-off mark of 70%.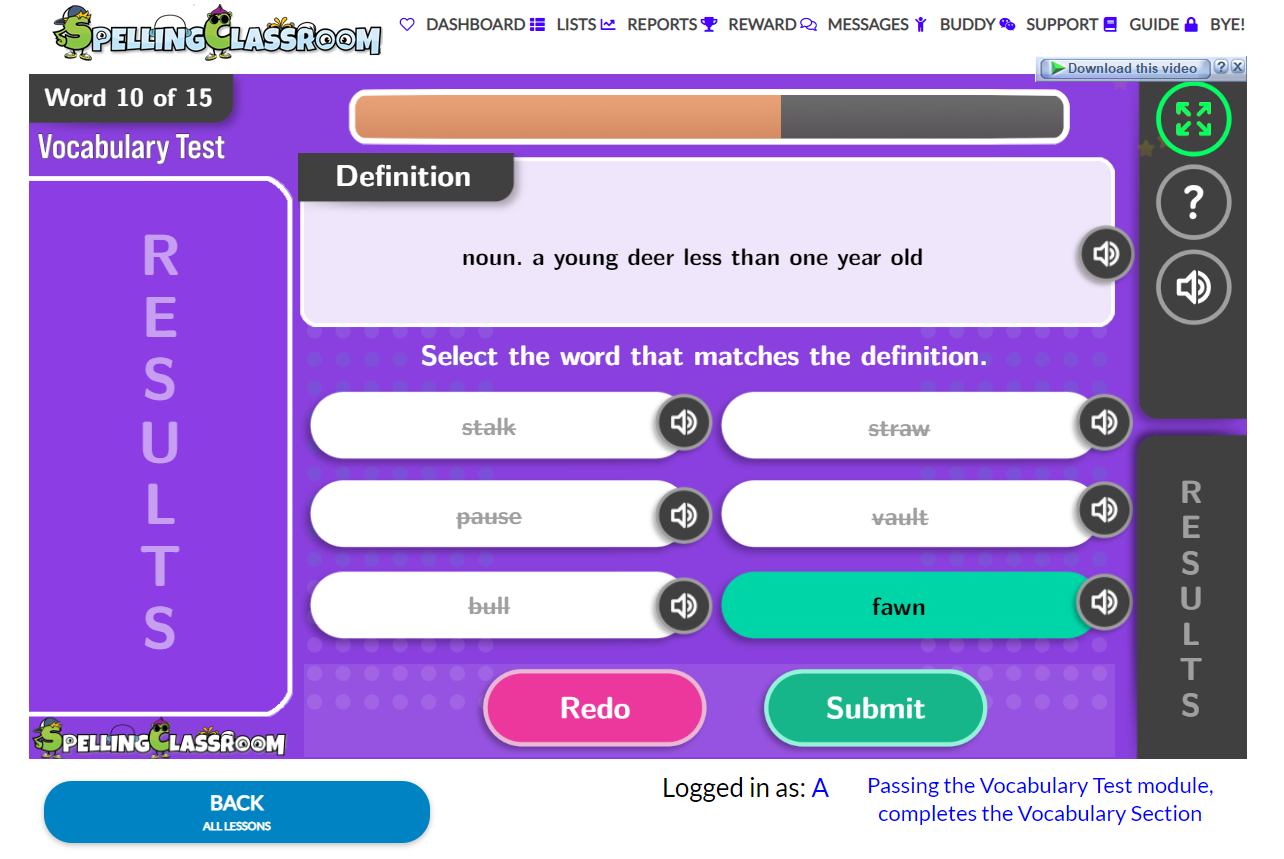 Let's Play Some Real Games
The games in the previous section were designed to teach spelling and vocabulary. But Spelling Classroom has a huge collection of real games too that your students can play for fun. Completing the lessons helps them earn coins that they can use to play these games.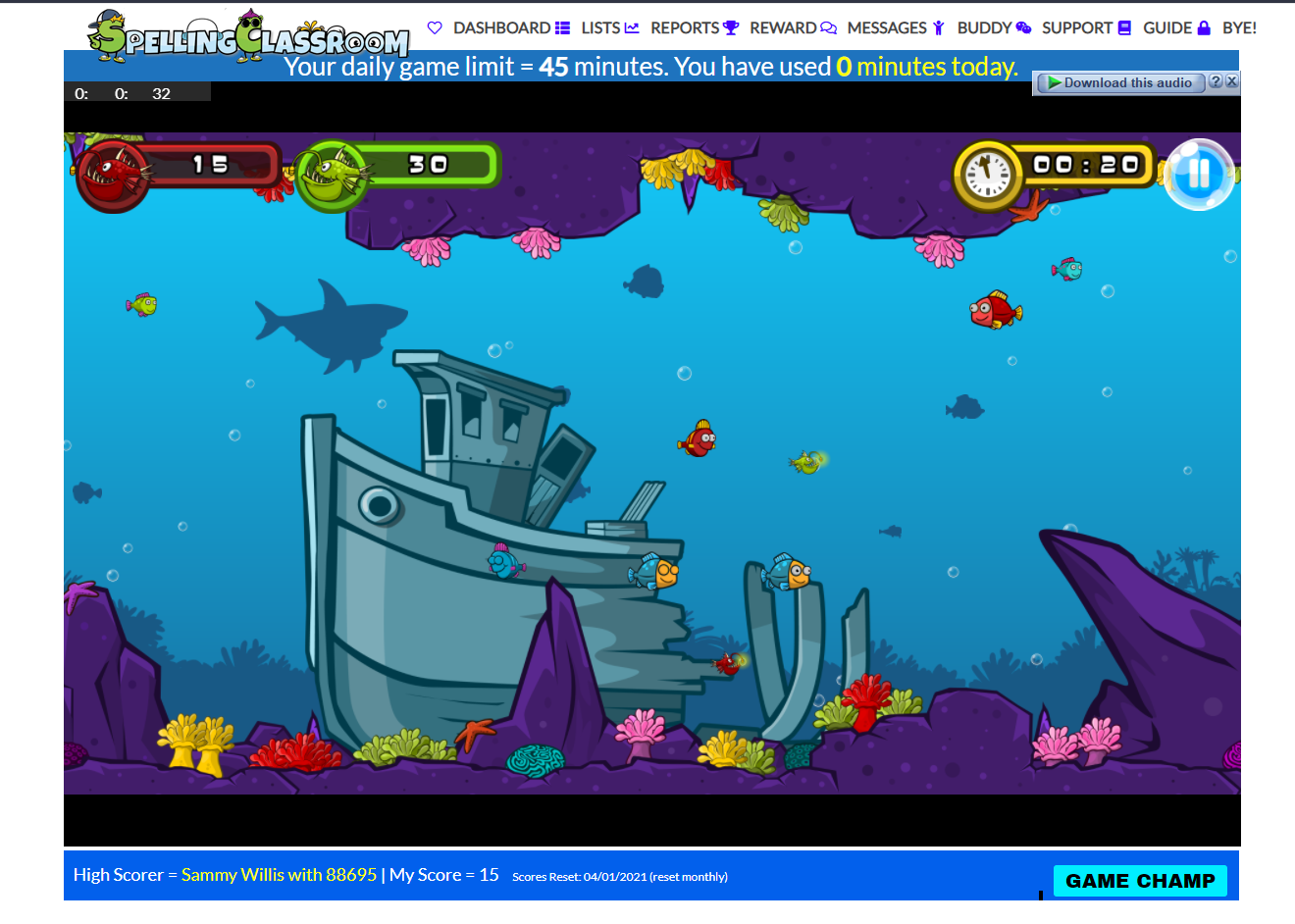 The coins are great incentives for them to partake in more spelling and vocabulary lessons. A student can only play 45 minutes every day and every game session demand one coin. This almost works like the old-school arcade games that required real-life coins.
The games are extremely fun and our students loved playing them.
What Do the Reports Say?
A good online platform must offer a robust report or analytics section. This helps the teachers to evaluate their teaching efforts improvise and optimize them.
Spelling Classroom does include a reports page but we didn't feel it to be sufficient enough.
For example, you can only check the misspelled or non-mastered words besides the activity modules. You need to check the session durations, correct words, attempt counts, etc. to fully evaluate your teaching approaches.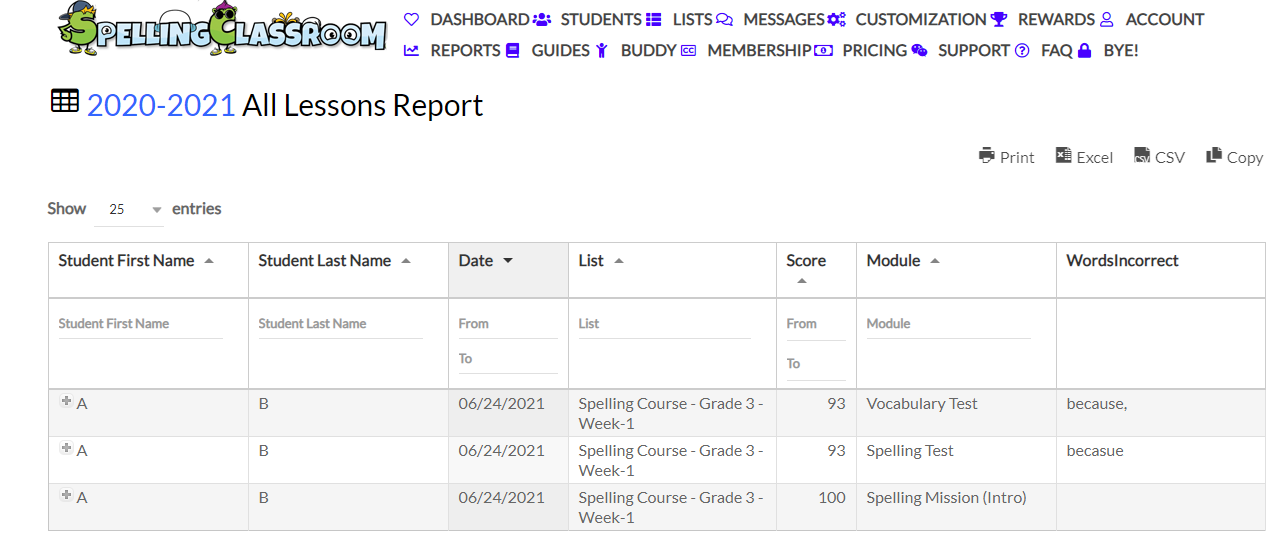 Spelling Classroom fails to offer such crucial evaluation factors. And, this is the end of the firsthand experience of using the platform in today's Spelling Classroom review. Let's talk about the scopes of improvement now.
Check out this guide to find about the best spelling programs of 2021!
Scopes of Improvement for Spelling Classroom
There are a few issues with Spelling Classroom that we noticed while the review process. If the developers behind this impressive platform can work on them, the website will even become more beneficial to the students.
Here are scopes of improvement —
Not Suitable for Children of All Age Groups
While the interesting games will do wonders for the young children, older children might find them too children. For example, A fifth or sixth-grader might not enjoy collecting letters to form words, let alone the older ones. So, a large portion of the learning activities become obsolete for them.  
While the activities make perfect sense for K-3 students, older kids will not get the maximum benefit. They might even straight-up refuse to partake in such activities.
The UI Is Too Complicated for the K-3 Students
While the spelling activities are great for K-3 students, the UI might be too complicated for them. Even many teachers have shared their concerns regarding this issue. The teachers get confused using the UI, too.
So, Spelling Classroom should make the UI more intuitive so that their target audience can get a better user experience.
Poor Reports and Analytics
As we have mentioned earlier, the reports page of Spelling Classroom should get some improvements. The duration of practice sessions and the correct and incorrect spelling ratio are crucial for the teachers to improvise their teaching efforts.  
No Freemium Features
 While the existing features of Spelling Classroom are top-notch, they don't offer any kind of freemium services. You could go for a free trial for 14 days, but you can't use any of their teaching modules for free.
This could be an issue for those who are struggling with budget.   
Best Alternatives to Spelling Classroom
While Spelling Classroom is a great teaching platform, there are certain online platforms that you could use as great alternatives.
These are —
ABCmouse
ABCmouse is one of the biggest online educational platforms that boasts of having a massive collection of educational activities. Compared to the 31 learning activities, ABCmouse has over 10,000 learning activities with 850 lesson plans.
ABCmouse also shares the same teaching approach. The lessons start with the creation of an online avatar and then students go through the learning path.
You can learn more about ABC mouse from this detailed ABCmouse review.  
Spelling Stars
Spelling Stars is another learning platform that specializes in spelling and vocabulary. It's true that Spelling Stars has fewer games on its platform. But the quality of the spelling lists and the teaching method is superb there.
Spelling City
Vocabulary Spelling City of Spelling City is another prominent name among online educational platforms. It too offers a large collection of word games, like Silly Bulls for teaching syllables or Word Unscramble. There are a total of 40 spelling games on Spelling City.
You should check out this SpellingCity review to learn every detail about this website.
Spelling Classroom vs SpellQuiz: Direct Comparison
Let's see how SpellQuiz fares against the features and offerings from Spelling Classroom.
Suitable for Kids of All Grades
SpellQuiz has a more straightforward approach in terms of spelling quizzes, lessons, and tests. The spelling test module features a state-of-the-art dictation-based teaching approach. So, older kids can become more comfortable using them. The lessons are designed by linguistic experts from the USA, Canada, the UK, and Australia.
Online Spelling Bee Multiplayer Game
Rather than using kindergarten-focused cartoon games, students can take part in Spelling Bee Online. This is a multiplayer game where you play Spelling Bee against participants coming from all around the world in real-time. Also, the leaderboard gets updated in real-time too.
So, good spellers can showcase their spelling prowess which is more challenging and exciting. The best part is the SBO is a completely free-to-play game. Anyone can join from anywhere, anytime!
State-of-the-Art Vocabulary Test an Adaptive Learning
Before jumping onto any kind of learning program, the students should assess their current capabilities. Although Spelling Classroom says that their platform is adaptive, they don't offer any kind of preliminary assessment tool.
SpellQuiz, on the other hand, features a vocabulary assessment test. This vocabulary assessment tool will analyze your capabilities within 10 minutes and offer you a suggestive vocabulary size and equivalent grade level. It will help you customize your learning approach.
Furthermore, you can choose the Adaptive Learning module to learn at your own speed.
Wide Collection of Word Lists, Quizzes, and Idioms
SpellQuiz has a separate Words module that will help you master new words. The module is divided into grade levels so that students can go through all the words from one place.
If students feel burnt out from all the spelling lessons, he/she can take part on the fun quizzes. Also, SpellQuiz has included a new Idioms section that lets students learn all the common idioms with intriguing visuals.