There are many ways to develop vocabulary online, and SpellingCity a.k.a VocabularySpellingCity is one of the major destinations for parents and teachers worldwide. They are one of the pioneers who introduced new techniques to master spelling skills back in 2008.
We, SpellQuiz, on the other hand, are trying to revolutionize the spelling activities. We are constantly adding new features like Spelling Bee Online to make the whole learning process more intuitive and effective.
Today, we will evaluate these two platforms side-by-side and try to analyze key differences. So, stay tuned till the end as we dissect all the features of both of the websites.
Taking a Look Back
So, why are we calling them a pioneer? What makes them so special?
SpellingCity's popularity is so high, mainly due to the age of the service. They started their journey in 2008. Back then, the concept of an online-based learning platform was still a "head-turning" idea, smartphones were still just a concept!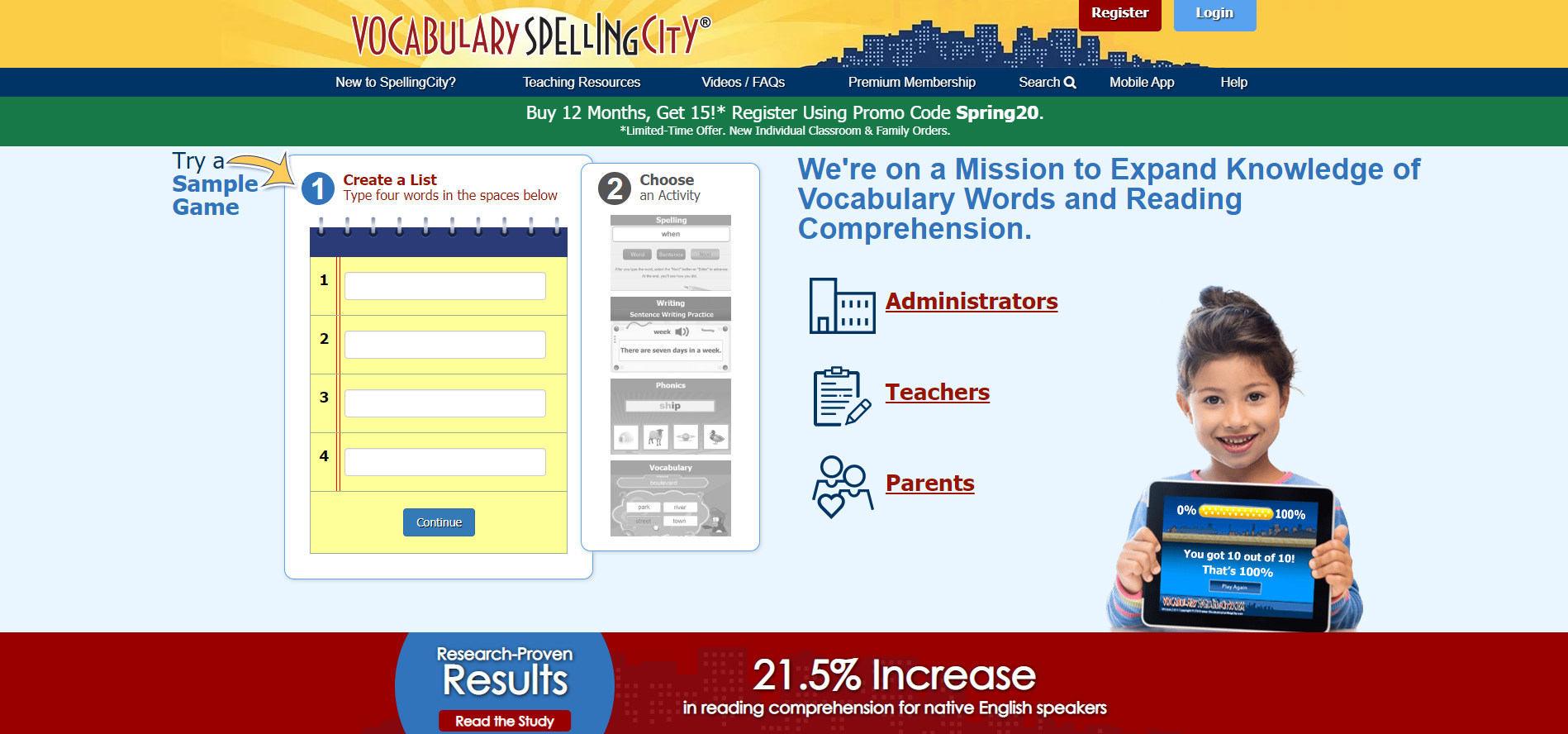 However, they almost immediately gained popularity and went viral. Teachers and parents started to like the idea of an online-based spelling practice platform.
In 2011, they changed their name to VocabularySpellingCity so that new users could get an instant idea about the service.
It was a statement.
With the passage of time, SpellingCity only got more and more popular.
What Are SpellingCity's Services? A Deeper Look
So, now that you know that SpellingCity is a learning platform to enhance vocabulary skills.
But what kids of services do they actually provide?
The strength of SpellingCity is a huge collection of word games. There are about 40 different word games in their collection.
The developers of SpellingCity are calling them "skill practice games."
Hmm, interesting!
What are these skill practice games like?
Let's take a look.
One of their popular games is called SillyBulls. In this game, a participant will try to identify the number of syllables in a given word.
Then, there is another popular game called the Word Unscramble. Here, a participant will have to arrange scrambled letters to form a legit word.
There are about 40 games, just like these two.
Without a doubt, these word games can enhance the spelling and vocabulary skills of a young kid.
What Do the Experts Say?
SpellingCity has been blessed with praises from parents, teachers, and educational experts all over the world.
In 2016, an education research organization called McREL International conducted a study to analyze the efficiency of this learning platform.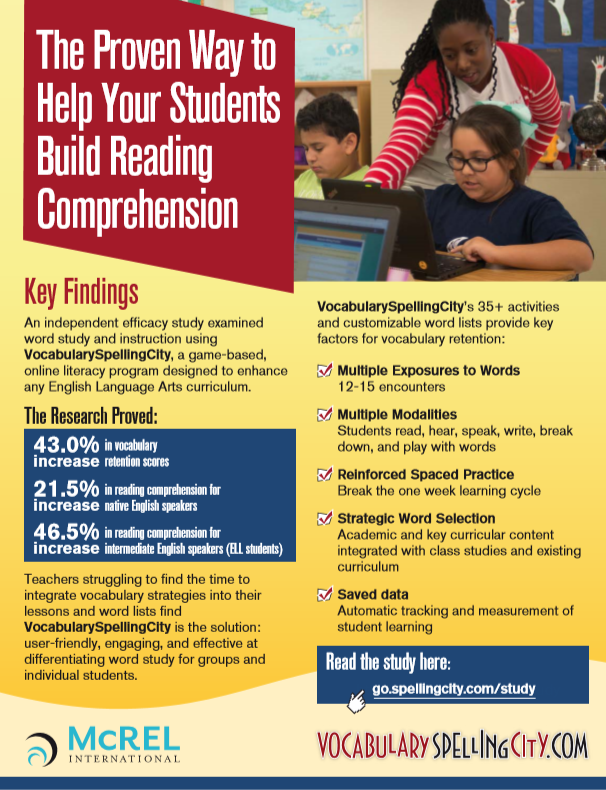 The key findings of the study suggest that vocabulary retention scores of a user get a 43% boost. Similarly, reading comprehension skills among native speakers and ESL learners get 21.5% and 46.5% boost, respectively.
That means the services of SpellingCity is obviously remarkable.
There is no doubt about it.
The Features: Things That Make SpellingCity Great!
After going through the SpellingCity, I was totally impressed. There are tons of great features that make the website quite unique.
1. Complete K-12 Spelling Lessons
SpellingCity has a wide collection of words suitable for kindergarten to grade 12 students. The word lists comprise of sight words, academic vocabulary, and words from other subjects like literature, math, science, and social studies.
2. Word Games
As you already know, the specialty of SpellingCity is word games. Very few online learning platforms have such huge word games collection. Since the beginning of SpellingCity, these games have been the biggest reason for their massive success.
3. Personalized Learning
Teachers and many schools are using SpellingCity to educate young minds. A teacher can create customized word lists and use them in the class. This empowers the teachers to use the power of customization and web accessibility.
Such a tailored teaching method can help the students a lot.
4. Cross-Platform Usage
One can access the platform through web browsers, smartphone apps, and tabs. So, teachers and students can get the benefit of using any kind of smart electronic device.
5. Flipped Classroom
It is one of the unique yet less known features of SpellingCity. With the Flipped Classroom feature. Teachers can assign offline assignments one different topic related to spelling and vocabulary so that students can participate in learning activities outside the classroom.
6. Reports
It's essential for the parents and teachers to look after the progress of their children. SpellingCity allows them to monitor the progress of the kids through a different window.
Scopes of Improvisation for SpellingCity
Sadly, SpellingCity lacks a number of essential features. I believe, with these features, SpellingCity could be even a better platform and serve the community better.
Here are some of the small issues that I felt SpellingCity should improvise for better user experience.
Complex Interface
Although the platform is technically a gem with so many advanced games, the navigation is quite puzzling. A lot of users have complained about the navigation system.
Sadly, I have to agree with them!
I would have loved if they had added a single page where I could find all the features and games in one place.
I know I am being a bit nit-picky here but it was hard for me to find all the exciting features of this wonderful website.
SpellQuiz, on the other hand, is very simple to navigate. The top panel is divided into six sections and each of these sections indicate each key feature.  
I am sure the brilliant minds over SpellingCity will look into this matter and make the website navigation easier.
Lack of Preset Spelling Practice Lists
One of the strongest features of SpellingCity is customizable lists. One can create different custom word lists for the students to practice.
It gives the users a magnificent tailored-learning experience. 
However, there is a lack of preset spelling lists.
This means the parents have to spend extra time to create and design the word lists. With all the humdrum of daily life, not all parents can squeeze up a time to create more and more word lists.
SpellQuiz has over 200 predesigned spelling lists created by the best linguistic experts from the USA and Canada. 
Lack of Progress Tracking Tools
As a parent, you would want to track the progress of your kids. Yes, you can track their progress, but then there is a scarcity of useful tools.
For example, you can't know the number of words that your kids have mastered so far, how, the duration of their practice sessions, which words they have failed to master, etc.
Issues with App
Firs of all, I think the VocabularySpellingCity app created a milestone for all the online-based spelling communities. Kids can now explore new ways of developing vocabulary through a smartphone.
However, the users didn't like the app that much.
On Google Play, the VocabularySpellingCity app has a rating of 3.3. And, on Apple App Store, it has a rating of 2.9.
It seems that the app has a few bugs that the developers need to fix. Some of the users had a pleasant experience while other found issues with sound, login, sign up, and lags.
So, What Are the Alternates?
SpellingCity might be one of the first platforms to work with spelling and vocabulary development, but it certainly isn't the only one now.
There are a number of great alternatives that can help your child with spelling and vocabulary.
Let's take a look at them –
Starfall is a K-3 learning platform that uses audio visual to teach spelling to the K-3 children. They are also working on the English language development programs like ELD, ELL, and ESL.
Apart from the spelling programs, they also have animated songs, math tricks, and other reading activities for the kids. Children with dyslexia can have a vivid learning experience as the website is full of multisensory interactive games.
While most of the websites like SpellingCity are focused on the kids, HowtoSpell is mainly dedicated to the adults. You can find spelling practice sessions for kids, but the adults are the main students here. 
LearnThat or LearnThatWord is a great platform to sharpen your vocabulary and spelling skills. They boast of their Open Dictionary of English. Also, you can learn word roots, suffixes, and English Oddities.
LearnThat creates personalized custom words lists that matches the knowledge level of the learners. Also, the platform tracks the progress and tries to optimize the learning experience.
Spelling Stars is another veteran educational website starting journey back in 2006. Just like Spelling City, they also have spelling lists to bolster up the vocabulary and spelling skills.
One can practice spelling online, take spelling tests, and create custom spelling lists. Moreover, the teachers and parents can overview the progress of the children through various reports.  
How Can SpellQuiz be a Good Alternative of SpellingCity?
As you know, SpellQuiz is a relatively new website compared to veterans like SpellingCity, but it has tons of features that SpellingCity doesn't have.
What are these features?
1. Vocabulary Tester
First of all, a student can learn his or her current vocabulary level from the very beginning. With the vocabulary test, he or she can set a unique learning pace.
Moreover, it gives a clearer view on how one should start his or her spelling practices. It's a unique feature that no other learning platform is currently offering.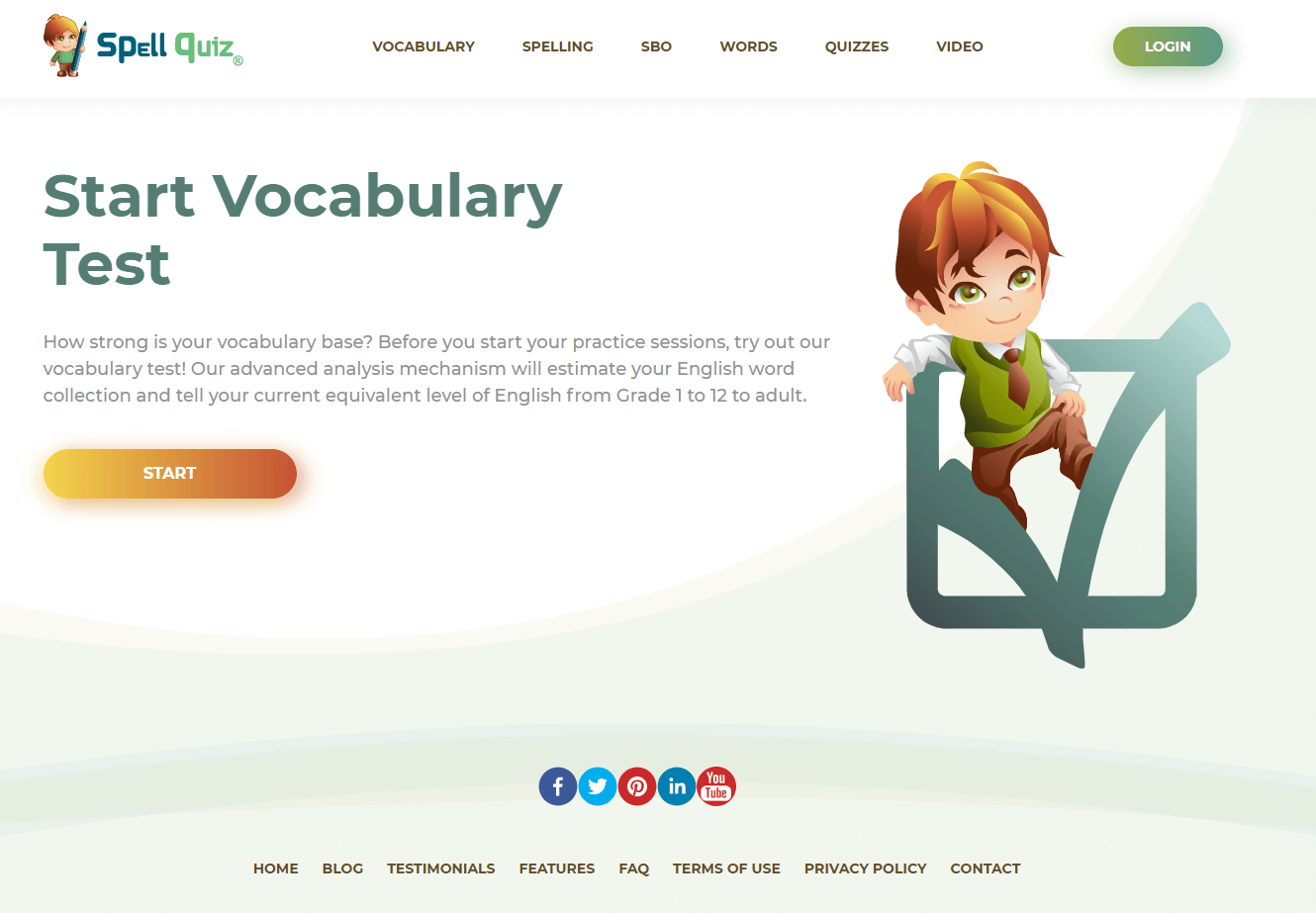 Furthermore, it also gives an estimation number of word collection the test taker possesses.
2. The Widest Collection of Spelling Quizzes
Then comes the spelling tests.
Yes, it's a common feature that almost every other online spelling platform has, but SpellQuiz has the biggest collection of tests. Also, there are two types of spelling lessons – Spelling Exercises and Spelling Lessons.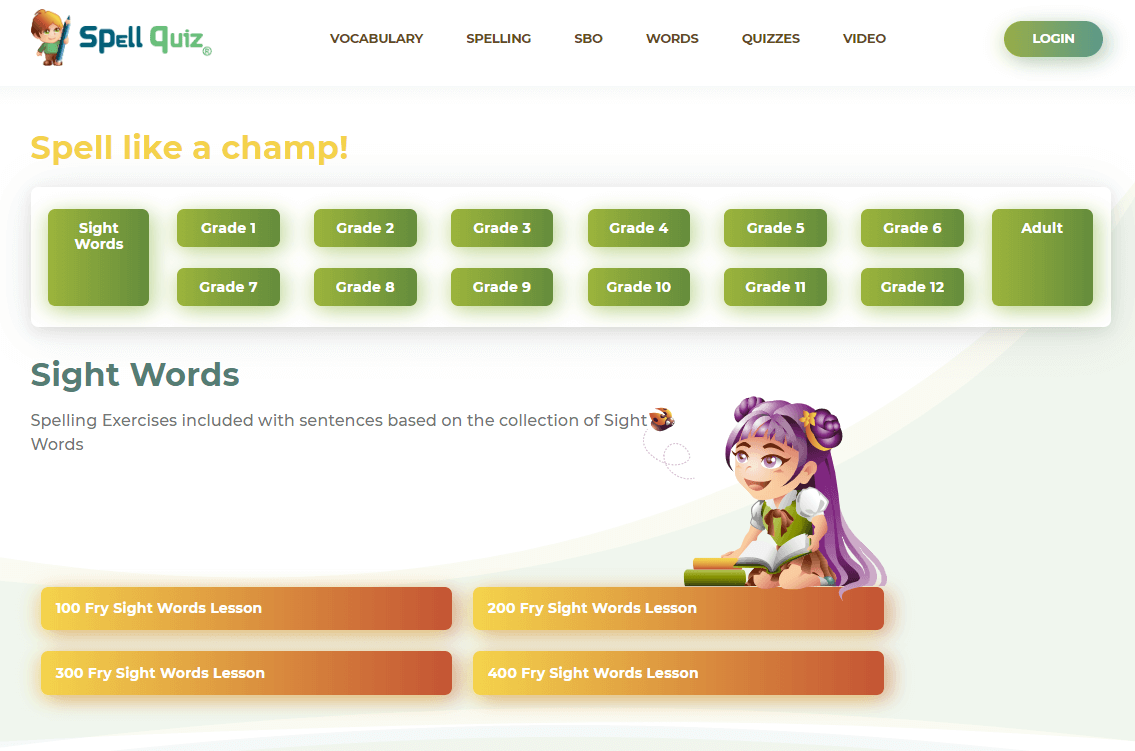 3. Special Lessons for Spelling Bee
Now comes the most unique feature – the Spelling Bee practice arena.
SpellQuiz has advanced spelling lessons designed for every grade named Spelling Bee lessons. These lessons consist of more intricate and complicated words that will make a user fit for the Spelling Bee competition.
4. Learning the Sight Words Easy Way
With SpellQuiz, a student can learn the sight words in two ways – checking the whole list of sight words and learning the sight words using the listen-type-spell strategy.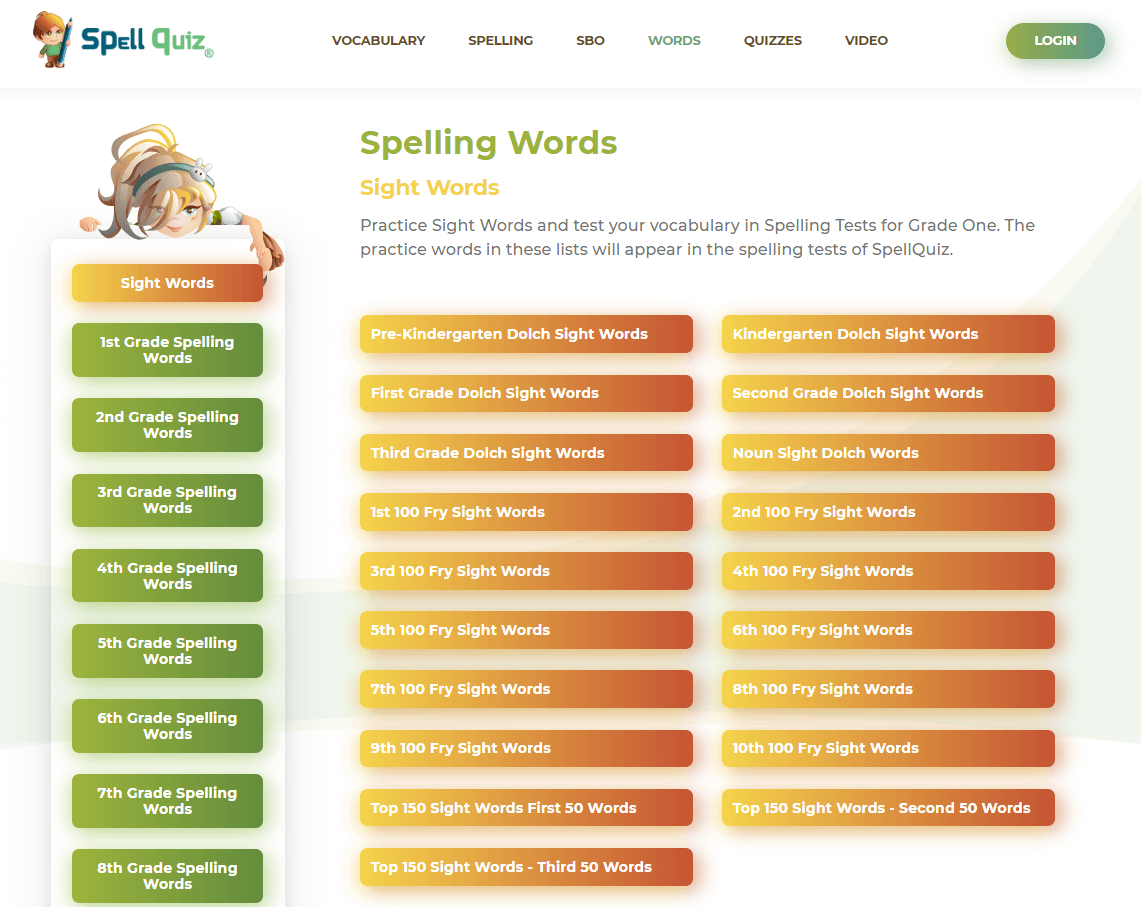 Moreover, one can download the printable copies so that he or she can practice them offline using pen and paper.
5. Special Care for Adult ESL learners
Just like SpellingCity and HowtoSpell, SpellQuiz understands the pain and struggle of ESL learners. That's why we have a dedicated section for the adults where they could practice spelling English words.
6. Video Tutorials
To make the user experience smoother, SpellQuiz has a video library where important videos are posted. These videos will help a user to use SpellQuiz more efficiently and learn to spell more easily.
SBO is the latest feature of SpellQuiz, where participants from all over the world can take part in virtual Spelling Bee in real-time. Moreover, to make it more accessible, the SBO section is free.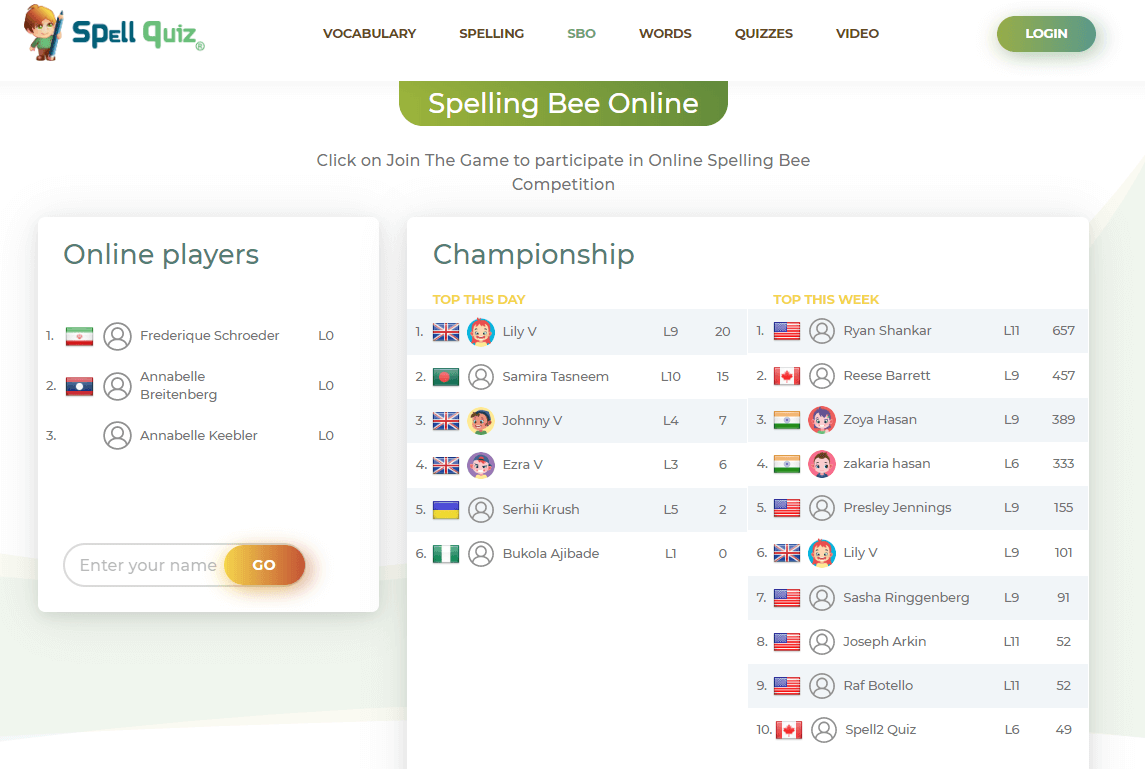 You will not have to spend a penny or register on the platform. All you need to do is enter your name and start playing!
8. Going Beyond Spelling
To make the learning experience more enjoyable, SpellQuiz has a collection of quizzes on topics different than spelling. It will help a user explore other educational subjects with fun.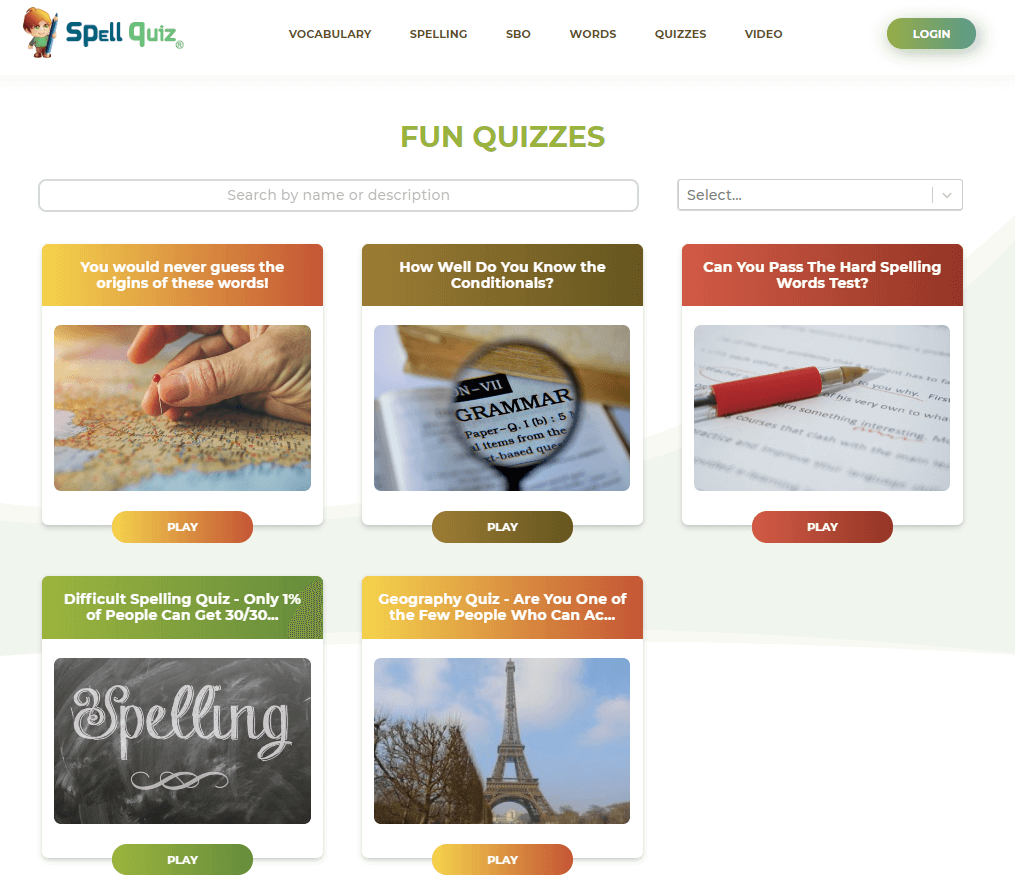 9. Better Analysis
As I have said, SpellingCity's progress tracking tools are not up to the mark. Whereas, SpellQuiz can offer better insights into the progress of a student using many quantifiable parameters.
10. Clutterless Ad-Free Interface
One of the biggest strong points of SpellQuiz is the clean user interface. There is no advertisement that can distract a student from practicing. The website navigation is clean. Moreover, one can understand the features of SpellQuiz quite easily.