There are a number of spelling programs available in the internet for the young learners. Parents or teachers often finds it hard to pick a suitable spelling program for the kids because of the huge number of options and lack of reviews about them.
Spelling Shed is one of the most popular spelling programs, frequently used by the teachers and parents, especially in the UK and the USA. Kids get easily hooked with the program because of its user-friendly interface and attractive spelling games. You can also compete against others!
In this Article we will review in detail about Spelling Shed. This article is not sponsored by Spelling shed or any other. There are certain aspects we will talk about such as:
Features of Spelling Shed
Subscription packages
Popularity
Scopes of improvement etc.
What is Spelling Shed?
Spelling Shed is an online platform that helps students learn English. Furthermore, it combines different online games with offline activities and worksheets- creating a hybrid model to help students learn English Spelling.
The program is designed by teachers and the developers are from the UK. But teachers from the USA, Australia or Ireland can easily use it. More so, the curriculum is fully customizable to fit into any learning spelling approaches of any school.
Spelling Shed is a platform under EdTech dedicated to spelling. As a result, you might be wondering what EdTech is. EdTech, or Education Technology is a technology-based systematic approach to education that mainly involves the internet and other web tools to teach the young learners. There are many platforms other than Spelling Shed under it such as Maths Shed or the Literacy Shed.
Features
Spelling Games
The spelling games are designed for children to have fun while learning. In reality, there are three types of games students can play:
Practice
This game helps students with their home-works or assignments. This is the most featured game in Spelling Shed. This game can include word lists set by the teachers or the ones available on Spelling Shed.
After clicking the Play game' button, you would be shown this page: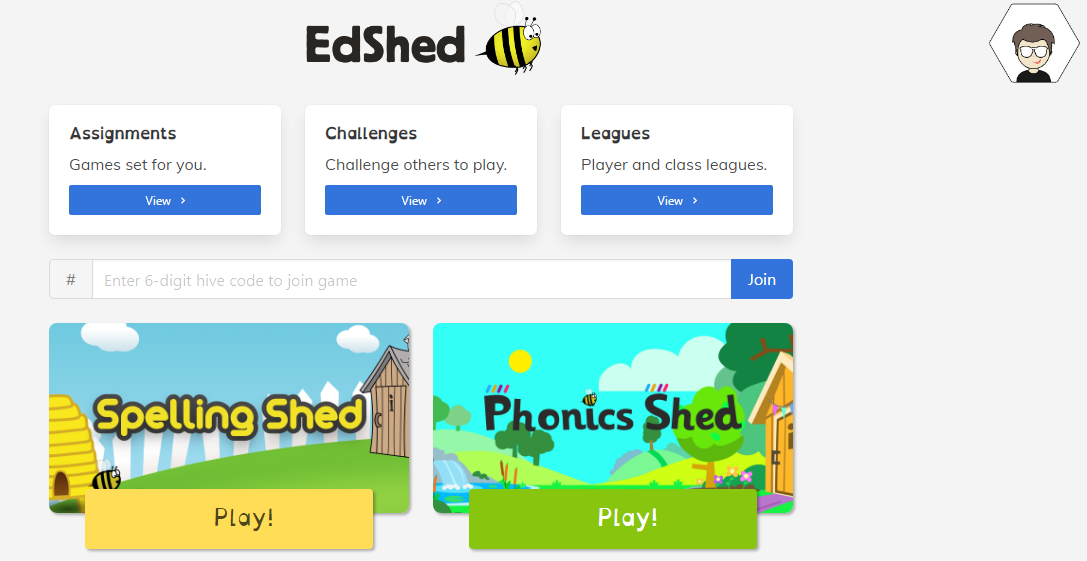 Choose Spelling Shed and you will go to the spelling game page. There are different stages for the game: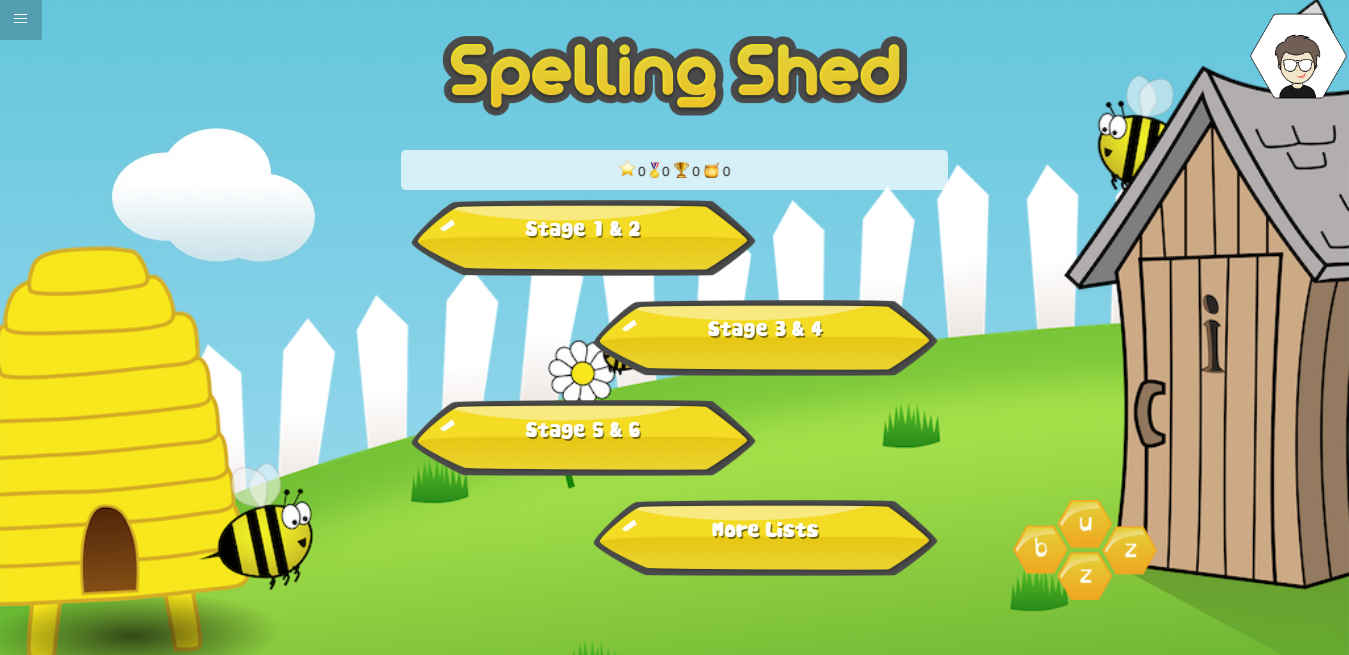 After selecting a game, you would be given two options: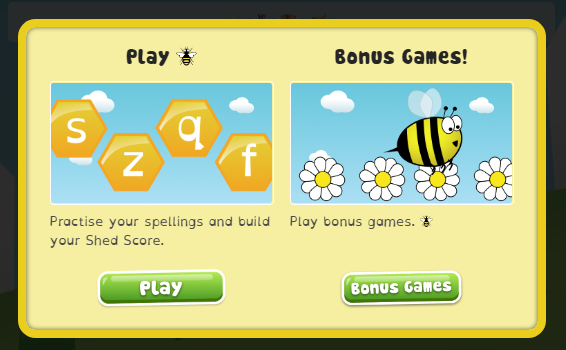 The bonus game is called Bee Keeper game.
Bee Keeper
Ever played Hangman? Bee Keeper is a modified version of it. In this game, you have to choose the correct letters before you lose all your bees. The less error you make, the more bees you save.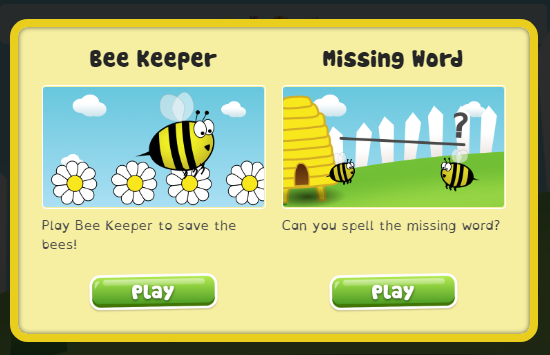 The interface looks like this: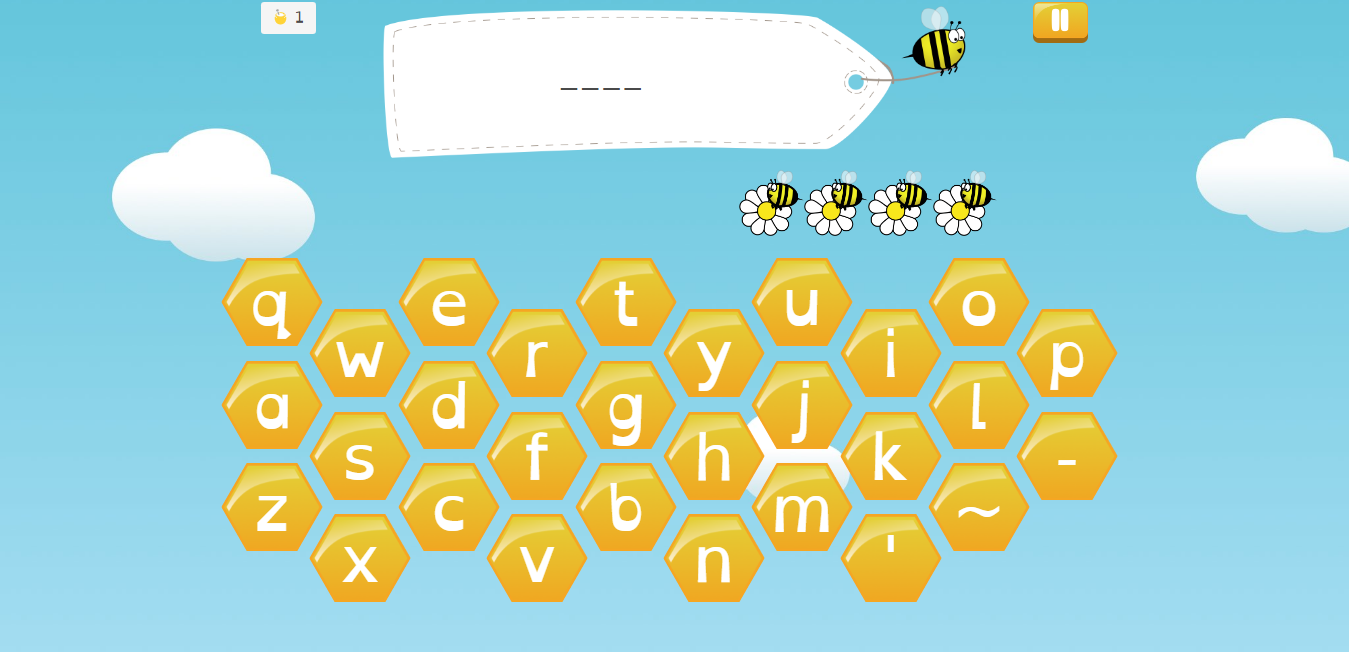 Missing word
Missing word is a fill in the gaps game where two options are given to student- one with the correct spelling, another is wrong. Student needs to choose the right one to advance.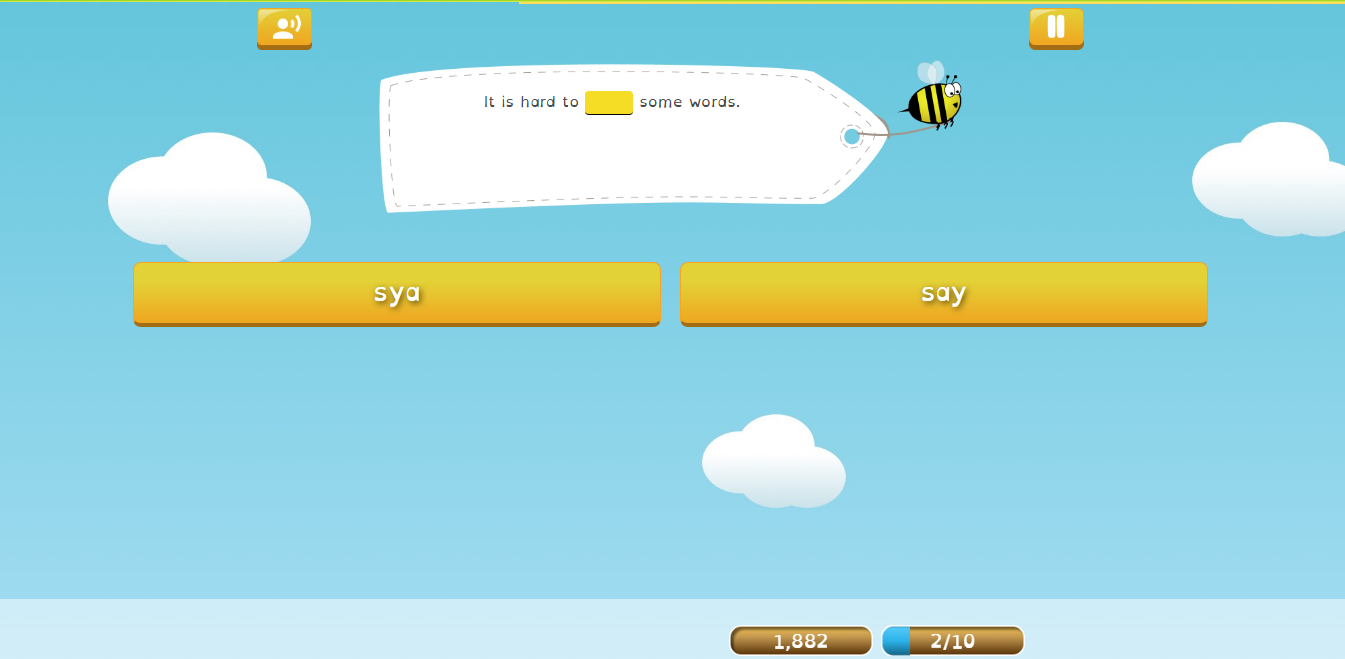 Buzz Word
Buzz word is a spelling game with time limit. Furthermore, the student is given a random selection of letter and they need to spell as many words as they can within the given time.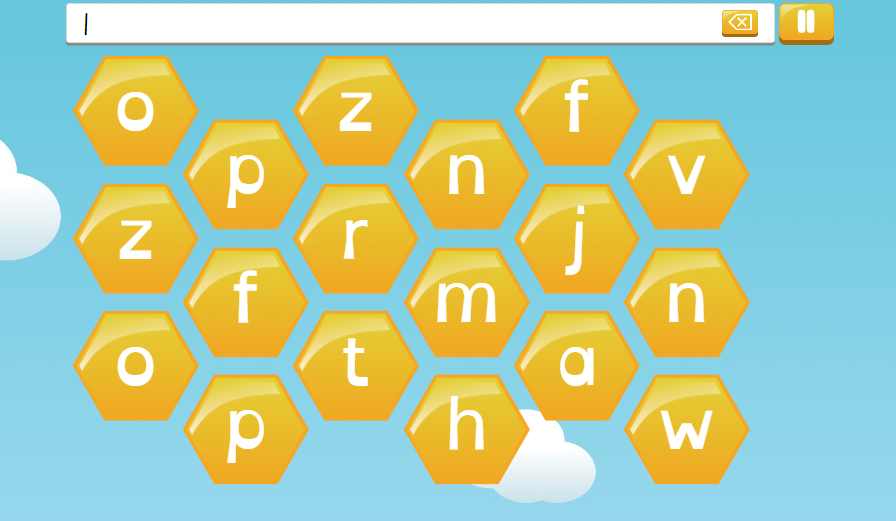 Spelling programs are a great way to improve your spelling skills. Learn more from our guide on how to improve spelling skills of a child right now!
Difficulty Level
Each game has 4 difficulty levels. You need to choose the level before starting the game.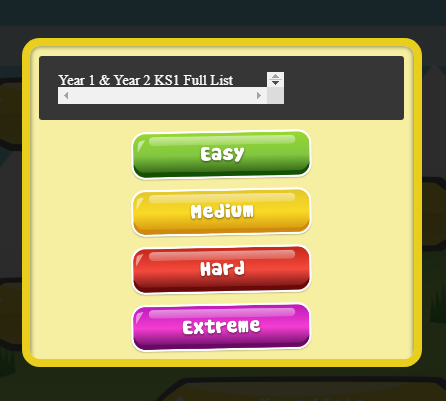 Easy
The word is shown on the screen
The student can hear the word
The student will be given only the letters that are needed to spell the word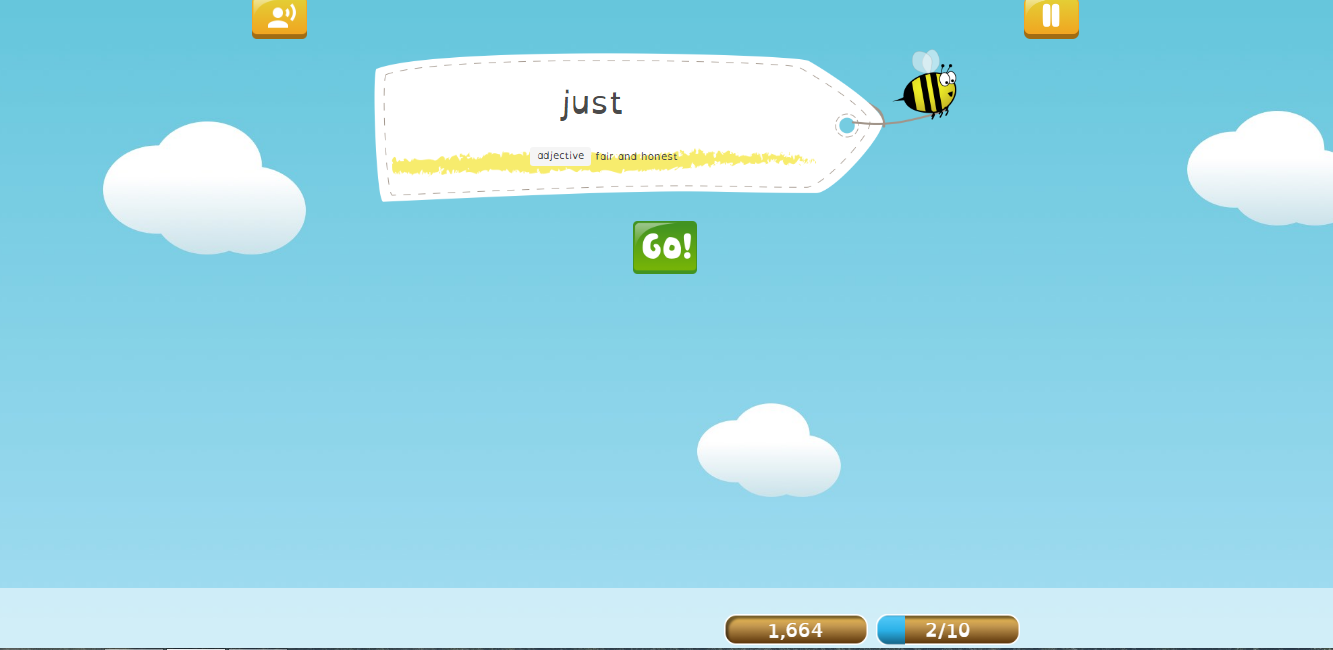 Medium
The student will be given only the letters that are needed to spell the word
The audio clip will be played but the word won't be shown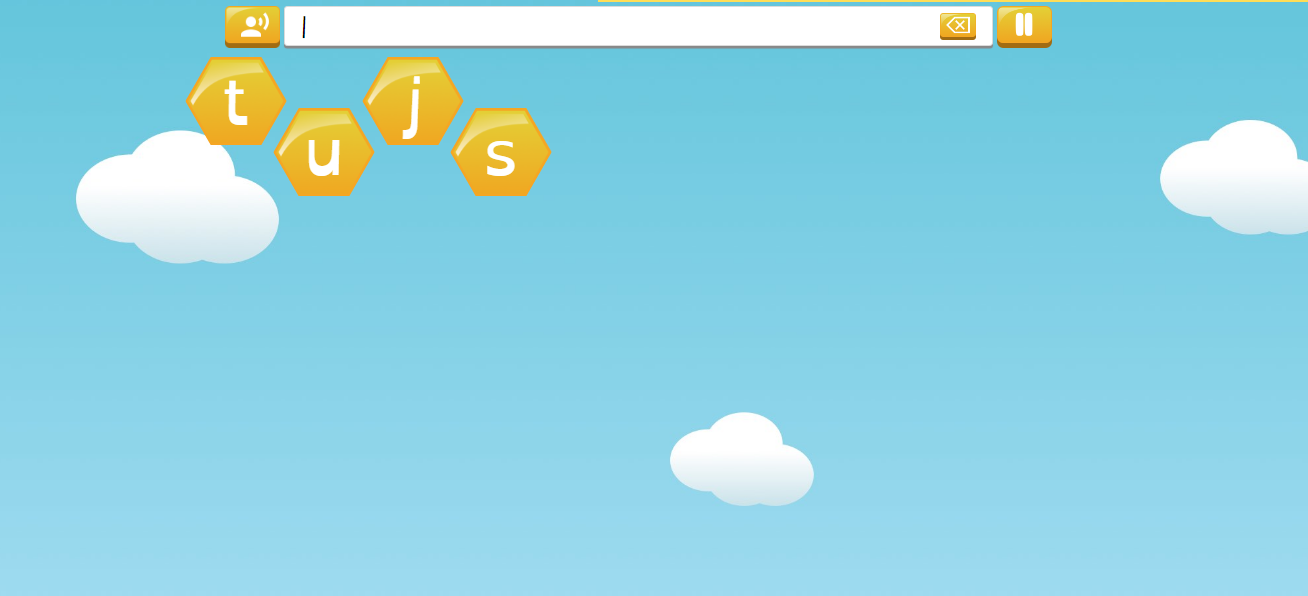 Hard
Audio clip will be played
Necessary letters along with some random letters will be given.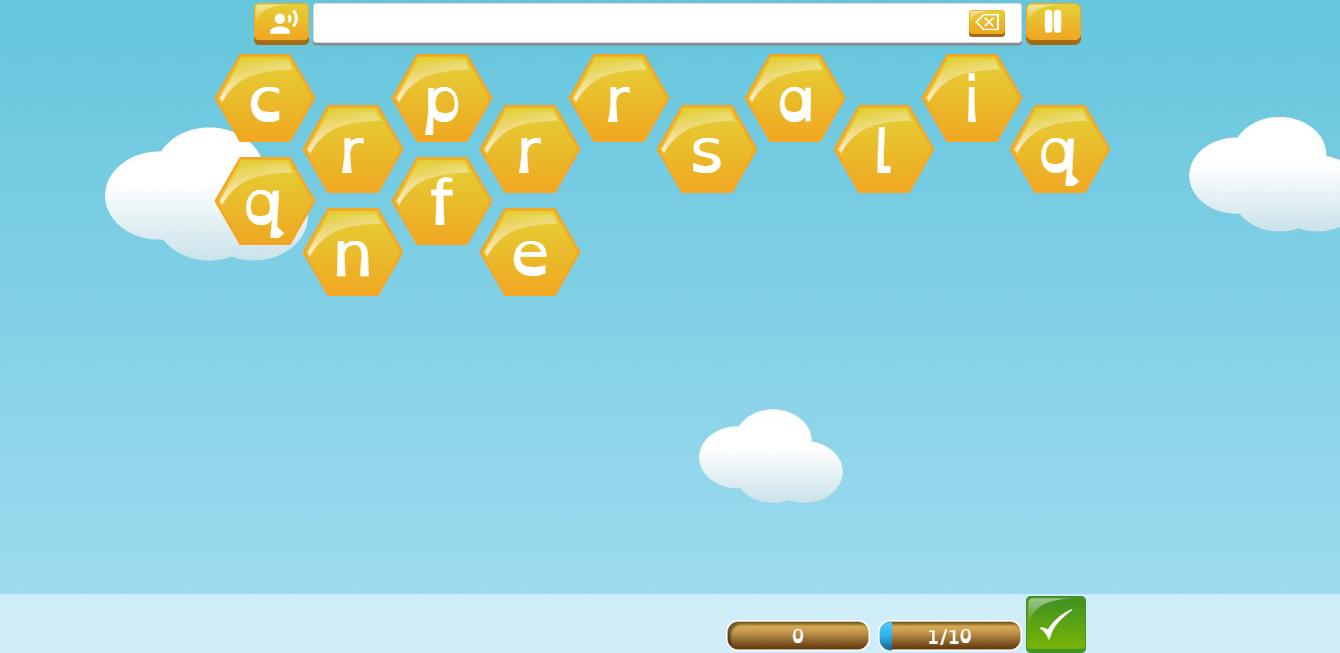 Extreme
Full keyboard will be shown. The student needs to spell the word from the sound.
The word should be properly capitalized.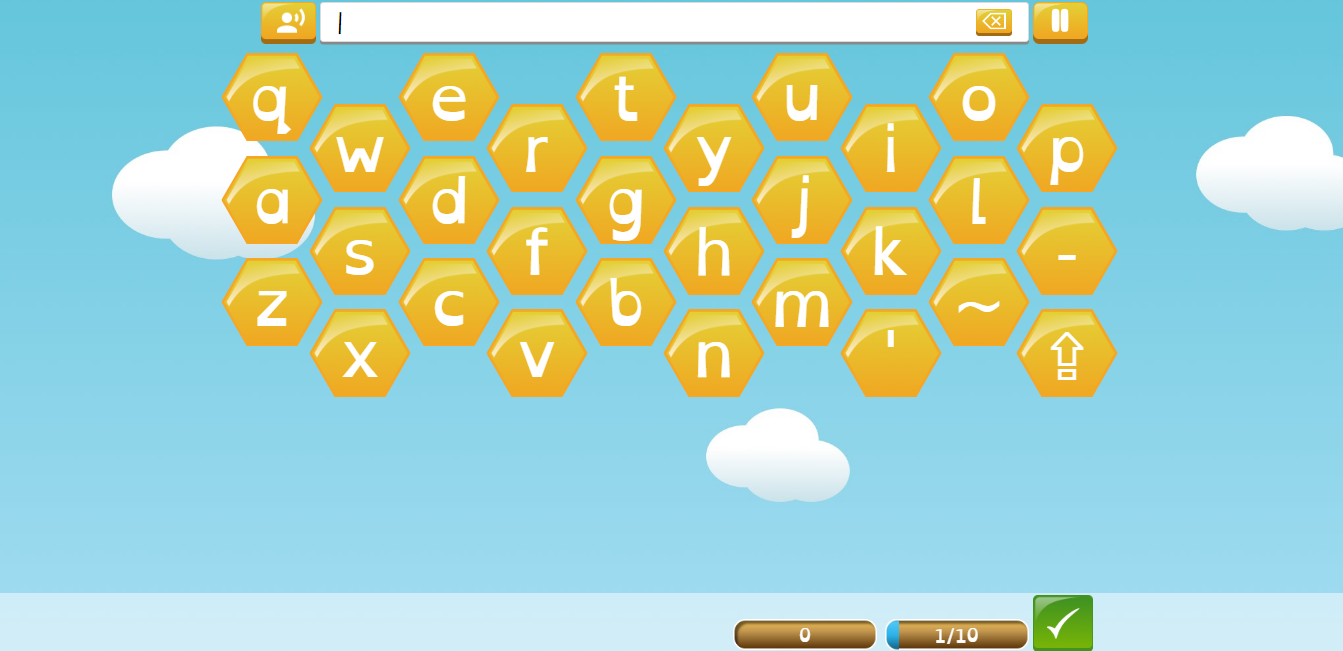 Avatar
Each user will be assigned an avatar right after signing in. More so, you can change the skin, facial features, clothes, background etc. In fact, most of the features can be purchased using the Honeypots' students win from the spelling games.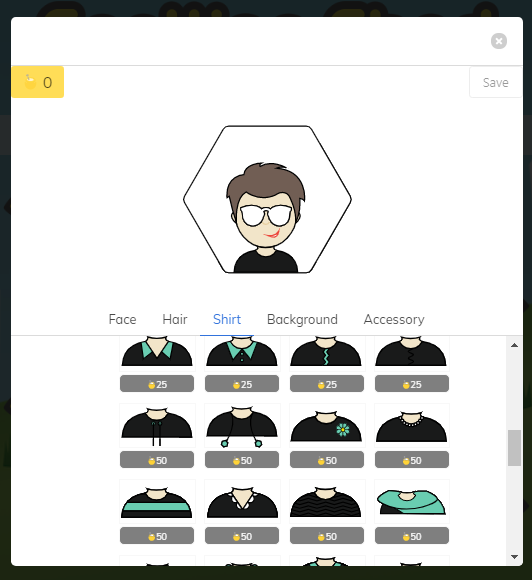 Scoring, Competition and Certification
Scores in Spelling Shed games depend on certain things:
Correct answer
Speed
Number of correct words in a row
There are certain terms you need to know about to properly understand your score:
Shed Score: Shed score is the total score you earn for 7 consecutive days.
League Rank: League rank use Shed score to show performance of a student. However, there is a chance that a student can become quite competitive with league rank
Group League: Group league shows the total score of a group. They are also ranked in World League. The chart shows top 100 groups of Spelling Shed around the world. They also show total and highest scores.
Spelling Shed also gives E-Certificates upon completing certain tasks or achieving certain level to keep the students motivated. They apply reward-based approach to teach students to ensure they give their full effort. The certificates are given on the categories below:
Speller of the Week
Spelling Award
Super Speller
Top Marks
Honey Pots
Students are awarded with additional honey pots along with their scores by spelling words correctly and consecutively. More so, Honey pots can be used to upgrade your avatar by buying clothes, accessorize, backgrounds etc.
Want to check out more games like this? Check out our full guide on spelling games online that will help your child to learn spelling the fun way!
Phonics Shed
Phonics shed is a part of Spelling Shed that focuses on improving students' phonics skill. This is best for beginner level students who are still learning to spell from the sound.
Along with digital games, it also includes a set of additional tools to teach phonics. The program includes pre-reading environmental sounds to improve students' phonetic awareness. It also provides a phonics-based word list for the students.
Hive Spelling Game
Hive game is an interactive online spelling competition that is played among students around the world! It is played Live' where participants spell the same word at the same time. Pupils can create their own hive game too to compete against each other.
In addition, Hive games can be used as an assessment tool to see the improvement of the children. As a teacher, you can control the game from central EdShed site. You'll be shown a league table between the rounds. Also, if you are confident on your students' capability, you can join spelling league for higher spelling scores and compete against the world to rank in top scorer list.
One thing you must remember that as a Live' game, if a student is late to join, they will miss the first parts of the game and won't be able to recover their lost points. Make sure all the participants are online before starting the competition.
Benefits for Teachers
There are a number of benefits Spelling Shed offer for the teachers such as:
Printable work schemes
Weekly lesson plans, worksheets with answer sheets, slides
Data tracking options for parents and teachers to monitor progress
Opportunity to set assignments, targets for your students. There is an Assignment Rank' for students which indicates difficulty and accuracy.
Spelling Lists
Spelling Shed has a humungous collection of spelling words and built-in word lists.
But teachers, as well as the pupils, can add their own lists if necessary. A teacher can mark a list as favourite so that students can find them easily and referring the list other teachers will help them out.
Grammar Lessons
In addition to spelling activities and resources, Spelling Shed offers grammar curriculum based on English National Curriculum. It includes lessons on Sentence Making, Punctuation etc.
Helpful for Students with Learning Difficulties
Spelling Shed has a special font named Open Dyslexic' for dyslexic students to help them learn comfortably. Therefore, you can use this facility while playing games or giving assignments.
Easy to use
The program is available both on iOS and Android platform. A student just needs a functional device and an internet connection. Furthermore, the user-friendly interface is suitable for even kindergarten students to use without any difficulty.
They also provide start guides and videos for the users. There are also materials provided for offline use.
Why is my English getting worse? Can spelling programs help in improving my English skills? Check out our guide on it now!
Subscription Packages
The 14-days free trial scheme lets you have a good insight about the program before you purchase anything. There are different packages for parents, teachers and schools. If you are a parent, you can subscribe monthly package for £4.99 or yearly package for £29.99. For teachers and schools, only yearly packages are available.
Packages for parents includes licenses for up to 5 children. For teachers, it includes up to 36 pupils at a price of £36.00. For school package, the cost varies depending on the number of students. In reality, it is possible to have more than 2000 licenses for students in a yearly school package where the cost per student is only £0.65. It also includes unlimited teacher licences.
All the packages include:
Unlimited list of spelling words
Access to spelling games and Phonics Shade
Access to Hive Game
Progress monitoring
15% discount if bought together with Maths Shed
Access to spelling schemes differ depending on if the subscriber is a parent, teacher or a school:
Schemes for home use for parents
Schemes for personal use for teachers
Resources for school use for schools
Popularity
Studies show students who use Spelling Shed has achieved 50% better score in the standardized test. Thus, it is one of the most popular programs in the UK. The users gave it 4.2 starts on average.
Scopes of Improvements
Variety in games
There's only 3 types of games for the students in this program. Having variety in games and applying different methods in teaching spelling is essential to keep students interested in learning spelling.
Suitability for students
Spelling Shed is useful for 5-11 years old students but students older than that, especially ESL Students might find the exercise too easy.
Subscription Plan
There is only one package for the teachers in Spelling Shed which is a yearly subscription with a fixed number of student license. In this case, the package might be inconvenient for private tutors or teachers with bigger of smaller class.
Alternatives to Spelling Shed
Spelling City
Considered a Pioneer' in online spelling practice platforms, Spelling city started their journey in 2008 with an aim to enhance the vocabulary of students. More so, they have about 40 different types of word game that will help your children learn newer words quickly and with fun. Furthermore, they have a wide collection of words that are suitable for students of all level-from kindergarten to grade-12. You should definitely check the Spelling City review for detailed information.
ABCmouse
Containing more than 10,000 learning activities and over 800 lesson plans- ABCmouse is one of the biggest online educational platforms dedicated to teach children from age two to eight. Therefore, it's not just spelling activities, you can find lessons on all the core subjects such as math, science, social science etc. And not just that, ABCmouse offers art and music based activities too.
You can find more from the detailed review of ABCmouse.
Spellzone
You definitely have heard about this platform while searching for a proper spelling program for your kid. Spellzone' s biggest advantage is that they group the word based on their spelling patterns which makes it easier for students to learn a wide range of word within a short time. Students, especially ESL students can greatly benefit from their course curriculum and multi-sensory activities.
Comparison between Spelling Shed and SpellQuiz
Suitable for students of all level
In SpellQuiz, the spelling tests are divided by grades. It has tests and word lists suitable for grade 1- 12 students and over. It also provides Printable List of Sight Words which are divided by grades. For teaching older students, you can find an impressive list of Idioms with explanation and image for students to understand the idioms better in a fun way.
Vocabulary
The SpellQuiz vocabulary test is useful for students to estimate their vocabulary range along with spelling capacity. The test can assess your current level in minutes! Also, the SpellQuiz spelling test is a great way to learn spelling for every grade.
Love spelling bee competitions? Then try out SpellQuiz Spelling Bee Online competition where students can compete against other players in real time. What can be a greater way to sharpening those spelling skills, right?
Flexible Subscription plan
Teachers can have both monthly and yearly packages in SpellQuiz which generally includes 25 licenses. You can add more licenses at a very low price. There is also a package for only 2 licenses which are pretty convenient for private tutors. You can find more about the pricing from the SpellQuiz Website.