Long gone are the days when students had to slog through manual and traditional learning methods for improving spelling skills. Thanks to advanced online platforms, kids these days can learn English spelling with much enjoyment and fun.   
Among some of the better online, interactive platforms for improving spelling skills, Spellzone is a prominent name. Spellzone follows and structured pattern that works like virtual teacher' for the young students.
There are many special and unique features that make Spellzone different from the other platforms. However, Spellzone is not a free platform rather almost all the features locked behind that premium subscription.
That brings us to the main point of today's article – a detailed Spellzone review. This review will be divided into 6 parts –
What the core features of Spellzone?
How should a student utilize the functionalities to unlock the full potential of Spellzone?
The features that make Spellzone better than other platforms
Scopes of improvisation
Best alternatives of Spellzone
Is SpellQuiz a good alternative of Spellzone? A head-to-head comparison between Spellzone and SpellQuiz
Before we jump onto the main review section of Spellzone, let's try to learn about Spellzone first – what is Spellzone, what are the mission and visions of Spellzone, and how does Spellzone work?
About Spellzone – History and Team Members
Spellzone is an online learning platform specializing in British and American spelling skills. The platform wishes to become an all-encompassing source of knowledge students can learn individually at home, in school, or on the go.
Spellzone is an experienced company that started its journey back in 2002. And, the company is based in York, United Kingdom. In the early days, Spellzone mainly wanted to fill in the gaps of traditional learning approaches – mainly catering towards the needs of the older students and adults.
Shireen Shuster was the pioneer who found the company. The exceptionally qualified teacher and dyslexia specialist poured all her knowledge to help teenage students overcome their spelling problems. Initially, the platform was entirely dedicated towards the older students as this group students aren't fond of the childish' learning software.
Currently, the core team of Spellzone is comprised by Barry Perks (Development Director), Tarot Conway (Technical Director), Avani Shah (Content Creator), and Ross Georgeson (Illustrator). Al of the team members are exquisitely qualified educators and driven.  
The Core Features of Spellzone
Spellzone follows a three-step teaching methodology. These steps are –
Spelling Ability Test
Spelling Course
Word Lists
Spelling Ability Test: Assessment Ensures Better Learning
In the first step, students are encouraged to take the Spelling Ability Test.' Any good teacher first tries to analyze the strengths and weaknesses of an individual student. Spellzone does the same thing in this step.
Spelling Ability Test presents the students with about 70 dictation-based question. Here, students go though an audio-enabled test session. Upon opening the test UI, they hear a word and a sentence containing that word. Then, the students have to enter the correct spelling in a text box.
This step repeats until the algorithm reaches a conclusive point. After this test, students get a Spellzone score' and an individual course pathway.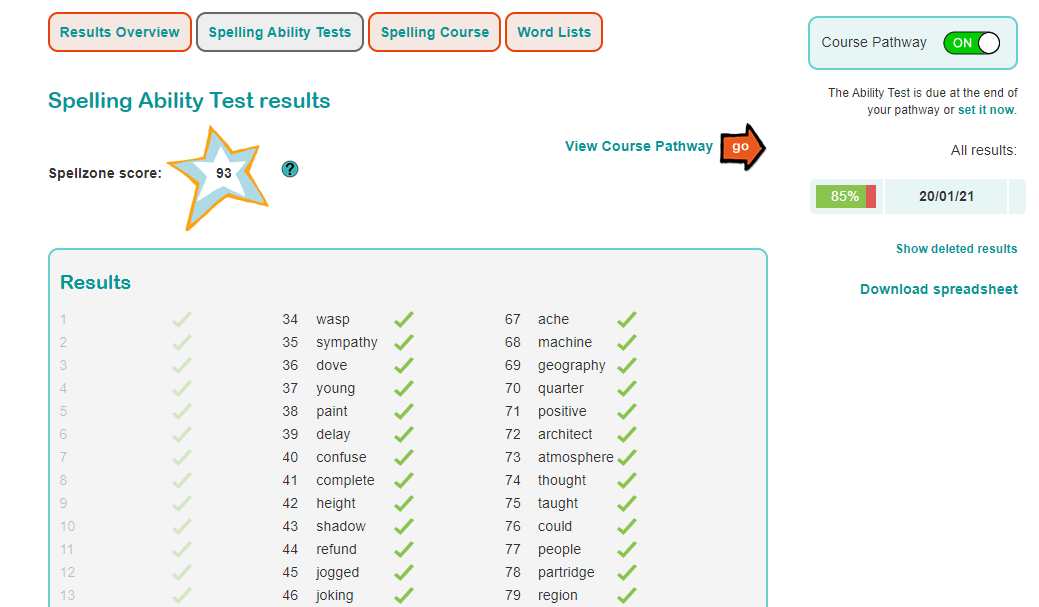 This step performs three crucial tasks –
Assess the prior knowledge of an individual participant
Offers student-oriented course pathways
Performs automatic re-testing in a periodic manner
Basically, the step figures out the ability of the individual students. This concept is almost the same as the SpellQuiz Vocabulary Test. But rather than offering a suggestive grade level and several other tracking parameters like SpellQuiz, Spellzone offers a course pathway. Also, SpellQuiz uses human voice-over artists while Spellzone uses computer generated audio.  
Spelling Courses: The Virtual Spelling Teacher!
The Spelling Course section teaches' the students different spelling rules and guidelines. Think of this to be a virtual teacher.' The courses are divided in two major groups –
Starter Course
Main Course
The Starter Course, as the name suggests, teaches all the basic rules regarding phonic spelling rules and various multi-sensory activities. There are a total of 8 lessons that follow easy-to-hard ranking. Both children and ESL learners can benefit a lot from this basic Starter Course.
Then comes the Main Course which is aligned with the National Curriculum in England. The Main Course is spread in 36 units and they are divided into 3 levels –
Basic Level – Discusses the basic spelling rules — i.e., spelling choices of /er/ sound (er, ir, ear, or er), spelling choices for /air/ sound (air, are, or ear). There are a total of 16 lesson units in this level with 6 test sessions.
Intermediate Level – Teaches the tricky and confusing spelling rules — i.e., the i' before the e' rule, word with silent letters (wrap, comb, sign, knight). There are a total of 8 lesson units in this level with 4 separate test sessions.
Advanced Level – Teaches the most complicated and advanced spelling rules — i.e., word endings with -et, -ot, -ate, -ite, word endings with -ant, -ent, -ence, -ance. There are a total of 12 lesson units with 2 test sessions.
These 36 lesson units covers almost all the spelling lessons seen in the English language. Mainly, all of these lessons start with the spelling rules regarding the issues. A detailed spelling list follows the rules section'.
Finally, once a learner is confident enough, he/she takes the spelling test covering the spelling rules in that particular lesson. Once the learner passes the test, he can advance to the next lesson.
Based on the score of the Spelling Ability Test,' the algorithm assigns a course level to the participant. The spelling course is very adequate and covers all the spelling rules in English spelling.
This is the core approach of Spellzone when it comes to teaching a learner about the English spelling.
Did you like this review so far? If so you can check out our detailed analysis of Spelling Classroom website review.
Practicing with Spelling Lists
The spelling skills are dependent on regular practices as we have discussed in the article on how long does it take to remember a word.' So, a student needs word lists to keep on practicing.
This is where the Word Lists' of Spellzone comes to play. Spellzone has different types of word lists –
Course Word Lists – Specific lists of words that align with the Spelling Course lessons. Here, you can find a total of 34 lists.
Curriculum Word Lists – These word lists are designed in accordance to the national curriculum in England, GCSE-oriented, English literature based, Scotland's SQA based, US-standard grade based (grade 1 to 9). These lists are adequate enough for a typical school-going child.
Vocabulary Lists – These word lists are niche or genre oriented. For examples, the vocabulary words found in the animals' study, arts, business, geography, math, weather, etc.
Lists by School, College, and Organization – This category is quite self-explanatory. Spellzone has a plethora of word lists that are suitable and provided by the individual school's curriculum. The only issue here is that all the schools are based in UK. So, students coming from other parts of the world will not get the most of these lists.
My Lists – Spellzone offers an opportunity to create custom words lists for every individual for practice. These lists can be created by individual learners, the parents, or teachers. These lists particularly help to master the difficult of hard words that learners struggle the most with.
Multi-Approach Learning Tools for the Words Lists
Spellzone offers multi-approach learning tools for mastering the words lists. There are a total of 5 different tools to help a student –
Look, Say, Cover, Write, Check – This is the basic practicing tool. Here, the students will first take a look' at the word. Then, they will speak aloud the word, after listening to the recorded word. Next, the word and the sound will be hidden and students will type in the word. After pressing the check button, the UI will tell if the student is correct or not.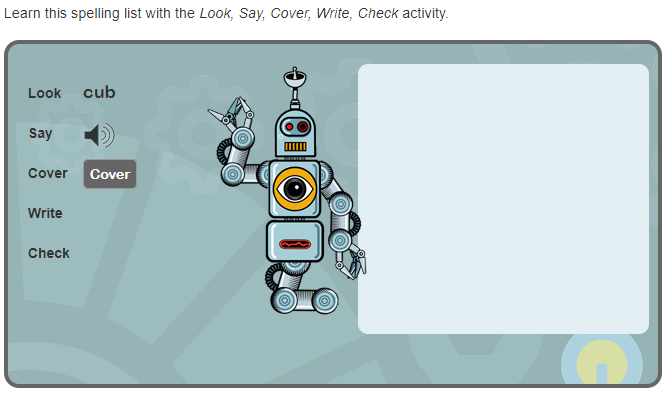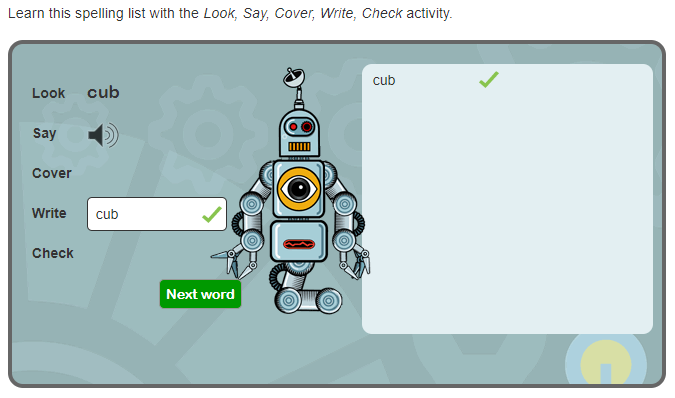 Spelling Games – Here, students can learn and practice the words from a specific list through different word games. There are a total of 15 games and each game follows a different path to teach the spellings. In the loadout screen, there are instructions for playing the games. Younger students will enjoy playing the games as they learn while having fun. Older students might find the game too childish and are likely to stick with the regular learning methods.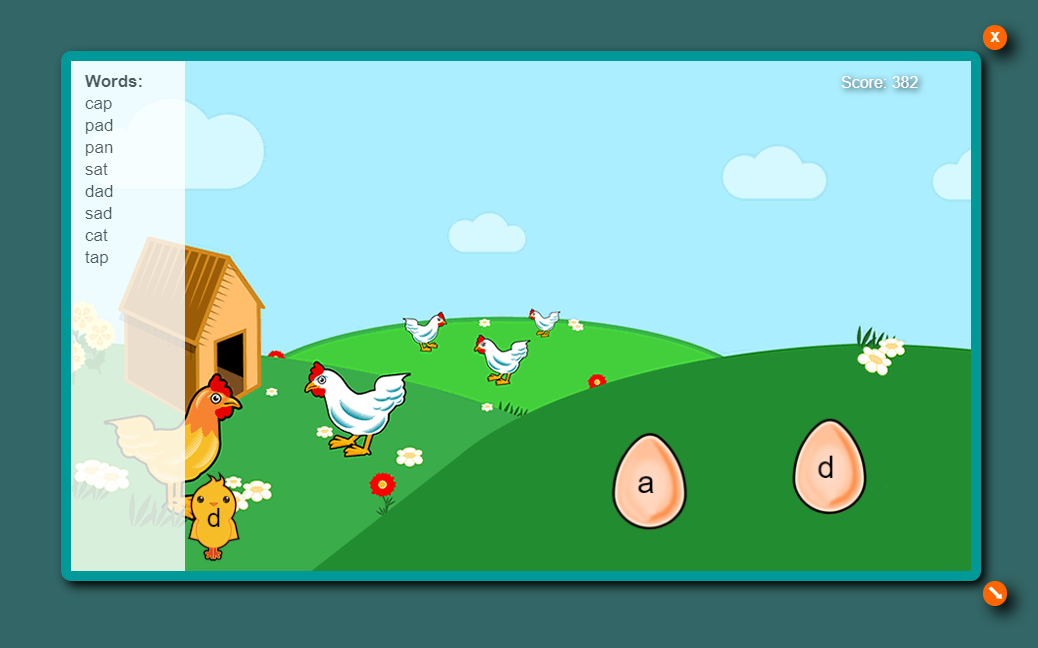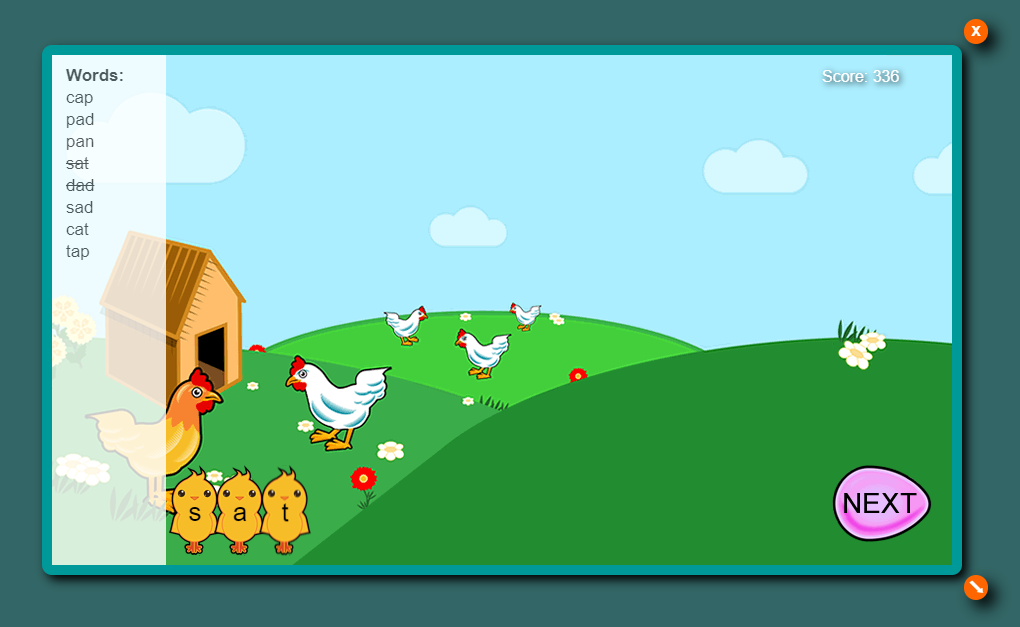 Listening-based Spelling Tests – This step is very straight forward. Upon loading the UI, a prerecorded voice speaks a word and a sentence containing that word. A student has to enter the correct spelling of the word in the text box and check. The UI also shows the list of correct or incorrect words.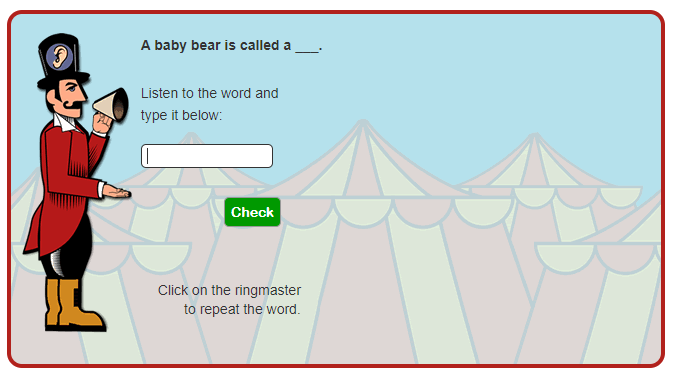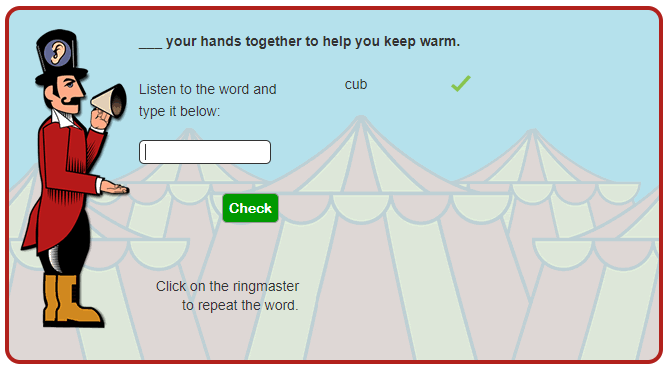 Printable Worksheets – These are worksheets that students can print and practice offline.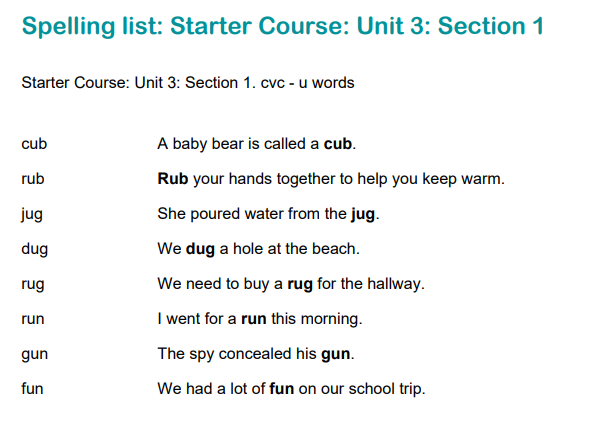 Handwriting Worksheets – These worksheets are just like the previous ones — downloadable and printable. But rather than only offering a list, it teaches how to write the letters and words using arrowed,' solid,' and dotted' lines.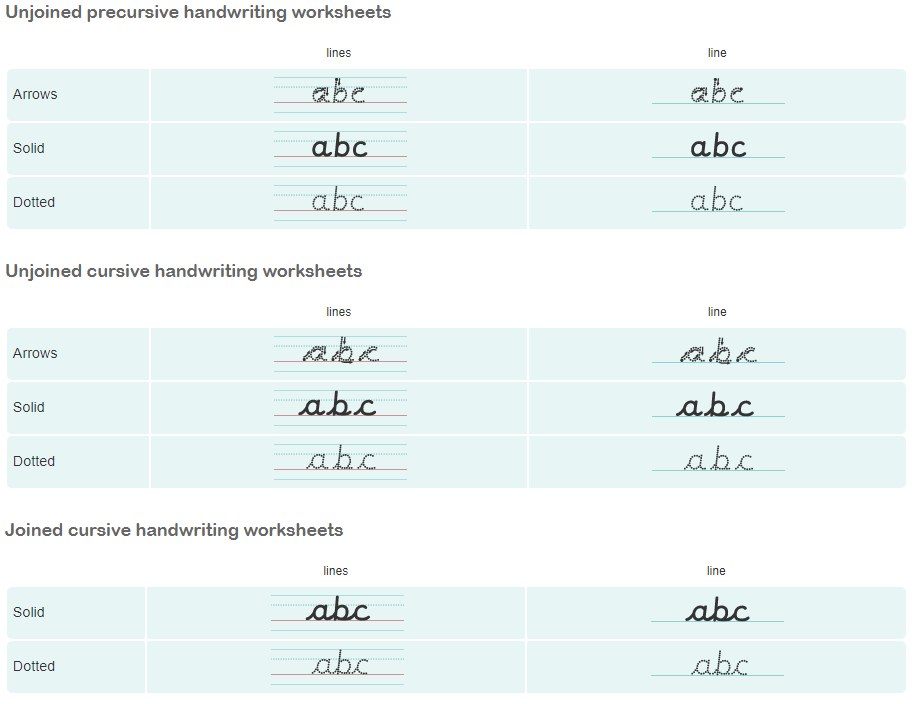 What We Loved About Spellzone?
Spellzone has almost 20 years of experience working in the industry and it is one of the oldest platforms dedicated towards improving English spelling skills.
Of course, Spellzone is veteran and there are a lot things to love about Spellzone. Here are some of the brilliant features that we absolutely loved!
Starts with an Assessment Point
It seems like a simple and basic feature but it makes all the difference in user experience. Students are NOT always in line with their grade level in terms of knowledge and skills. Some are ahead in the curve, while some struggle and lag behind.
For example, a student X' might be in grade 6, but her English skill might that of grade 8. It's very much possible.
So, she should pick up the practice sessions from the level of grade 8, not from the level grade 6. This would make her even stronger in the English spelling skills.
Spellzone understands this strongly recommends the users to begin with the Spelling Ability Test. There are a number of inferior platforms that blindly' starts teaching the learners.
Kudos to Spellzone!
Teaches All the Common Spelling Rules
Rather than being a platform solely dedicated towards practice, Spellzone tries to teach all the spelling lessons. This is remarkable as Spellzone can serve the purpose of a teacher who first teaches and then tests the abilities of the students.
It's a unique feature that is quite rare to find in the modern platforms that specializes in the English spelling.
A Massive Collection of Words Lists
Spellzone boasts off its high volume of words lists. Apart from the 1000s of preloaded words lists, there're over a million custom, user-created word lists on their website.
 Multi-Approach Testing Tools
One of the biggest reasons behind the popularity of Spellzone is the multi-approach tests. Most of the available online platforms have one or two testing mechanism. Spellzone, on the other hand, has five different types of testing tools. We think this is the second biggest strength of Spellzone after their Spelling Courses.
Following Curriculums
Spellzone's spelling practices are very effective in the real life because the courses and the word lists are made in accordance to the national curriculums of England, Scotland, and the United States of America. Then, comes the issue of affiliation with the individual school's curriculums. Spellzone follows school-based curriculums of hundreds of schools from the United Kingdom.
A Dedicated Spellzone Dictionary
Another big strength of Spellzone is their dictionary section. Spellzone has its own dictionary and it is very, very rich.
What's more?
It comes with a Scrabble Score' to inspire the student even more.
Spellzone Guides and Resources
The interface of the Spellzone is not-so-intuitive and a new user might feel too confused and might even overlook some of the best features of Spellzone because of the mediocre web design.
Spellzone solves this issue by creating simple and straightforward guides to use their services.
Also, Spellzone has some very useful spelling resources. Yes, the number of these resources are quite limited but the quality of them is top-class.
Scopes of Improvisation for Spellzone
There is no such thing as perfection. Just like every other spelling platform, Spellzone also has some notable issues. We want clarify that we don't want demean Spellzone but want them improve more for better user experience.
Hard-to-Navigate User Interface
It's true that Spellzone has several guides to get the most of their services. But the basic interface quite unintuitive. It might be a bit tough for the kids. Also, some of the important features are located are on the bottom, while some options are available on the menu bar on top. Again, the blog section is located at the mid-point of the homepage.
If you want to find all the features in single place, you'd struggle a bit.
Results Overview Could be Better
Spellzone has a separate results page that allows to keep track of the login time and number of activities participated by a user. The progress tracking or the results feature is very crucial someone wants to reach excellent level of spelling skills. Also, parents and teachers can benefit a lot from these progress tracking features.
That being said, the reports are not comprehensive enough. It doesn't offer an overview of how many words a user has mastered, or how many of the words the user has failed to spell correctly.
There are many platforms that offer more comprehensive reports.
Computer-Generated Audio Seems Lifeless
Spellzone uses audio-based or dictation-based spelling lessons and tests in a lot. However, Spellzone uses computer-generated audio which feels lifeless and boring. Also, in many cases, students can't understand the proper pronunciation.
If they can replace the robotic sounds with the human voice-overs, the lessons and tests would become livelier. At the same time, students can practice and improve their pronunciation.
Lack of Mobile App
Currently, students have wonderful mobile applications that they can use via their smartphone and tablets. The rise of iOS- and Android-based hardware urges the online platforms to create mobile applications.
Students can benefit a lot from a Spellzone app designed for mobile devices.
What Are Some of the Alternatives to Spellzone?
While Spellzone is an exceptionally great learning platform, there are some other options that offer similar or even better features.
You could check these learning platforms that might appeal to you –
SpellingCity
SpellingCity is one of the leading platforms for learning spelling and vocabulary. This platform is known for comprehensive spelling lessons dedicated to the K-12 students. Compared to Spellzone, SpellingCity has massive number of word games. Then, SpellingCity's cross-platform features and mobile application is very strong. SpellingCity will also impress you with the Flipped Classroom feature.
HowtoSpell
As Spellzone is special platform targeted towards the adults, HowtoSpell becomes a great contender against Spellzone. Just like Spellzone, HowtoSpell is also focused towards the adults and teenage learners.
You can take a look at their services and features.
Spelling Stars
When we compare the services and features, Spelling Stars is quite similar to Spellzone. Learners can practice spelling online, take spelling tests, and create custom spelling lists. Just like Spellzone Spelling Stars also has a progress tracking tools with rich reports and analytics.
SpellQuiz vs. Spellzone: Is SpellQuiz a Good Alternative?
Despite being a much newer platform, SpellQuiz is growing rapidly. SpellQuiz not only has most of the features of Spellzone, but also comes forward with abundance of additional features.
Here're the features that make SpellQuiz a viable alternative of Spellzone –
Better Vocabulary Tester
SpellQuiz challenges Spellzone with its own Vocabulary Tester. Both of the platforms follow a similar method of vocabulary testing.
However, SpellQuiz asks the users to write down the complete sentence with proper capitalization and tracks of the progress using countable parameters in real-time.
Spellzone, on the other hand, demands the users to write a specific word only. Moreover, SpellQuiz gives an estimation of probable vocabulary count and grade level. So, one can easily have an idea about their current vocabulary collection.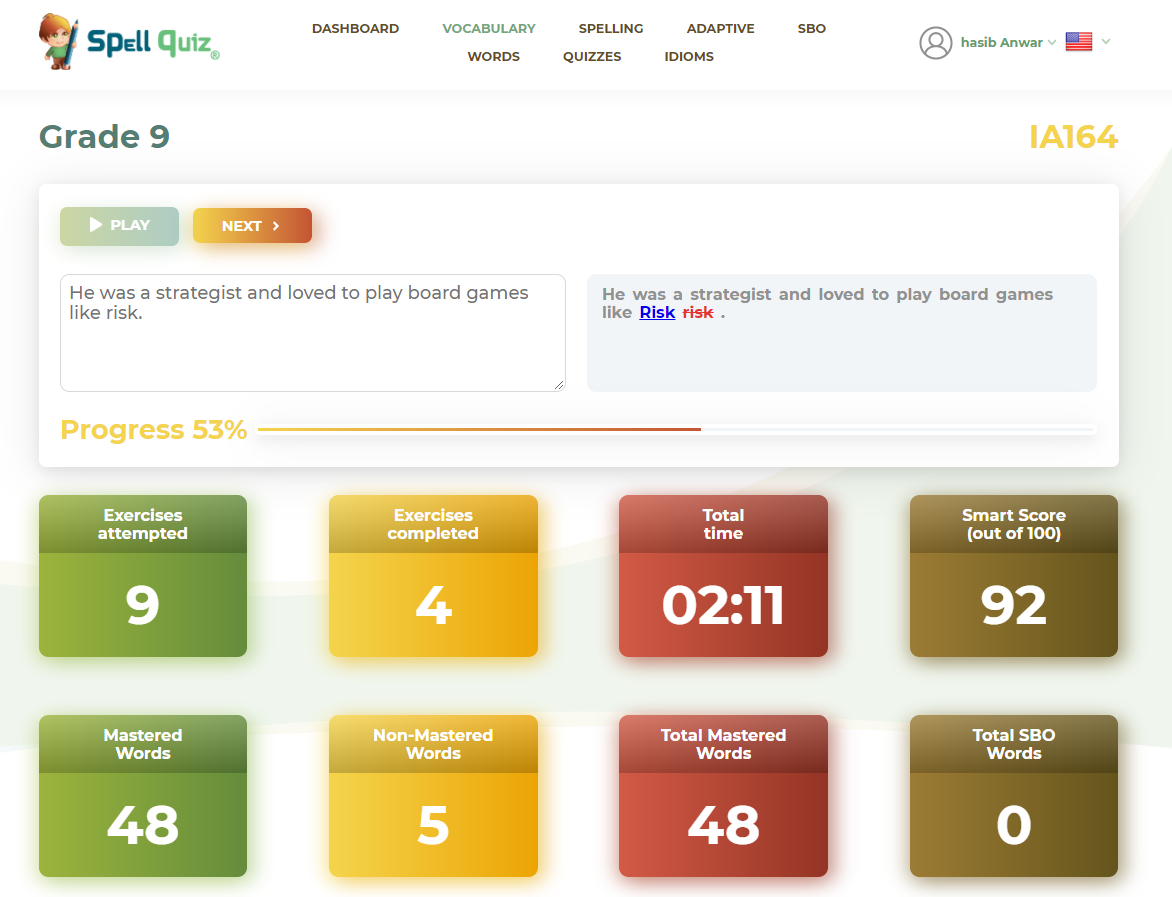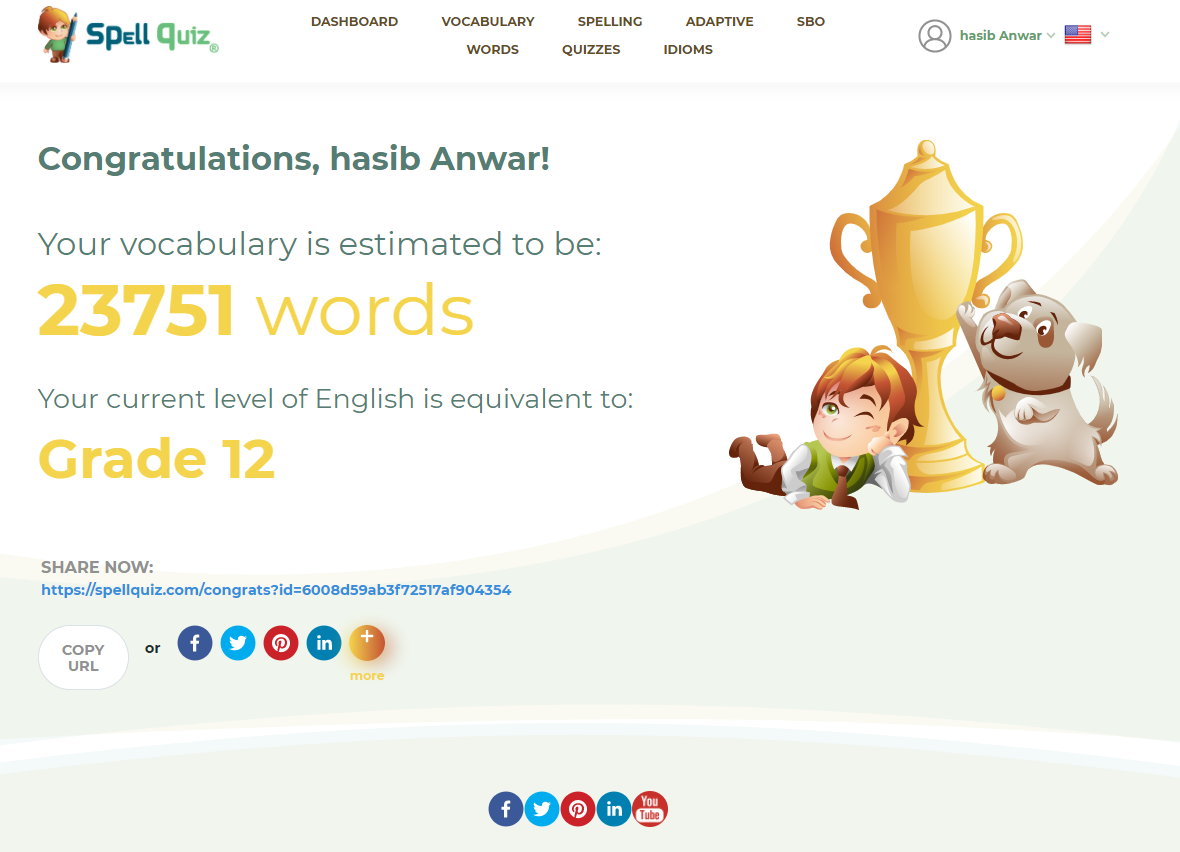 Human Voice Artists
As we have mentioned before, Spellzone uses computer-generated audio for the lessons and tests. SpellQuiz, on the other hand, uses native English speaking voice artists from the USA and Canada.
So, SpellQuiz's audio lessons and tests become livelier and more vibrant. Also, learners can learn proper pronunciation from native English speakers. As a result, overall experience becomes much richer.
Wider Collection of Spelling Tests
Both of the platforms have spelling tests, but SpellQuiz wins with higher number. SpellQuiz boasts of having one of the widest collections of spelling tests, exercises, and lessons.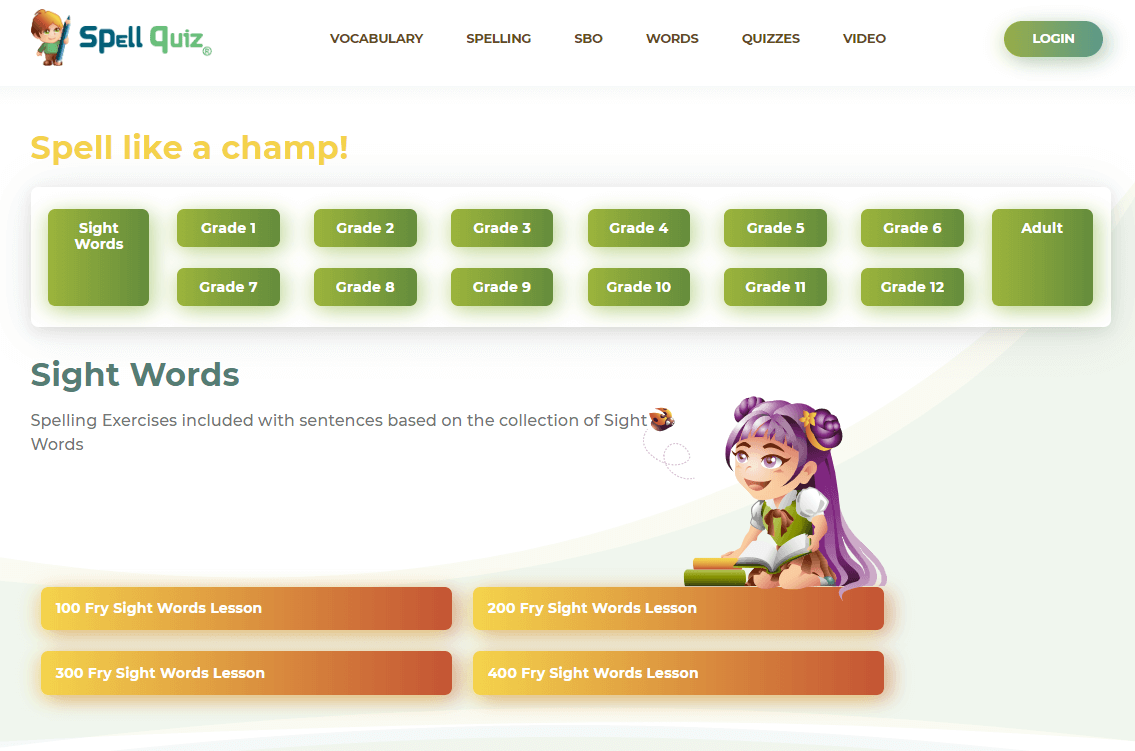 Special Lessons for Sight Words and Spelling Bee
Sight Words extremely important for young learners and ESL learners. As these sight words comprise of most of the common written and spoken words in the English language. SpellQuiz has a dedicated tab for learning and practicing these sight words. Students can also download and print these sight words for offline practices.
SpellQuiz understands that students have a keen interest in Spelling Bee competition. And, a lot of students put extra effort learning English spelling to do well in the Spelling Bee competitions. That's why SpellQuiz has special practice arena for Spelling Bee and one of the richest Spelling Bee guides available online.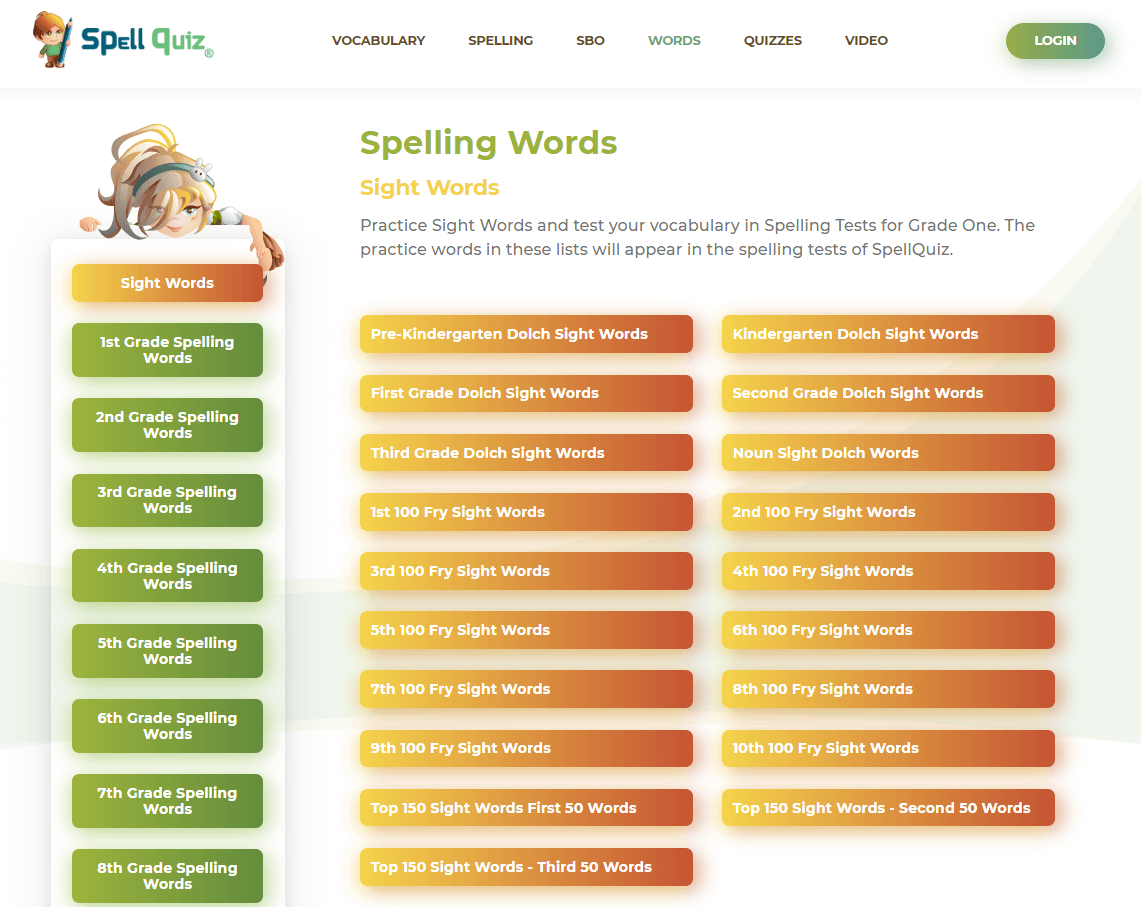 The Opportunity to Learn at Own Pace
Not every single student has the same caliber. Some are better and faster, while struggle to match their peers. SpellQuiz Understands the case very well.
SpellQuiz has introduced Adaptive Learning where students can learn at their own pace. The practices start from the very basic level and the sessions get adjusted according to the capabilities of the learners.
This feature is also extremely helpful for the gifted children and the student suffering with learning disabilities like dyslexia.  
Special Care for Adults and ESL Learners
Adults and ESL learners are quite different from the young school-going children coming from a native English-speaking country. So, their lessons and exercises should be different.
SpellQuiz has different sections for the adults where they can practice more comfortably.
Superior Reports and Analytics
Both of the platforms have reports section, but SpellQuiz is clearly the superior option here. While Spellzone only tracks the activity duration and number of activities participated by the users, SpellQuiz tracks –
Activity duration
Total number of correct words
Total number of incorrect words
Type of activity participation and total number of activity participation
SmartScore
Number of attempts
Global ranks
Word statistics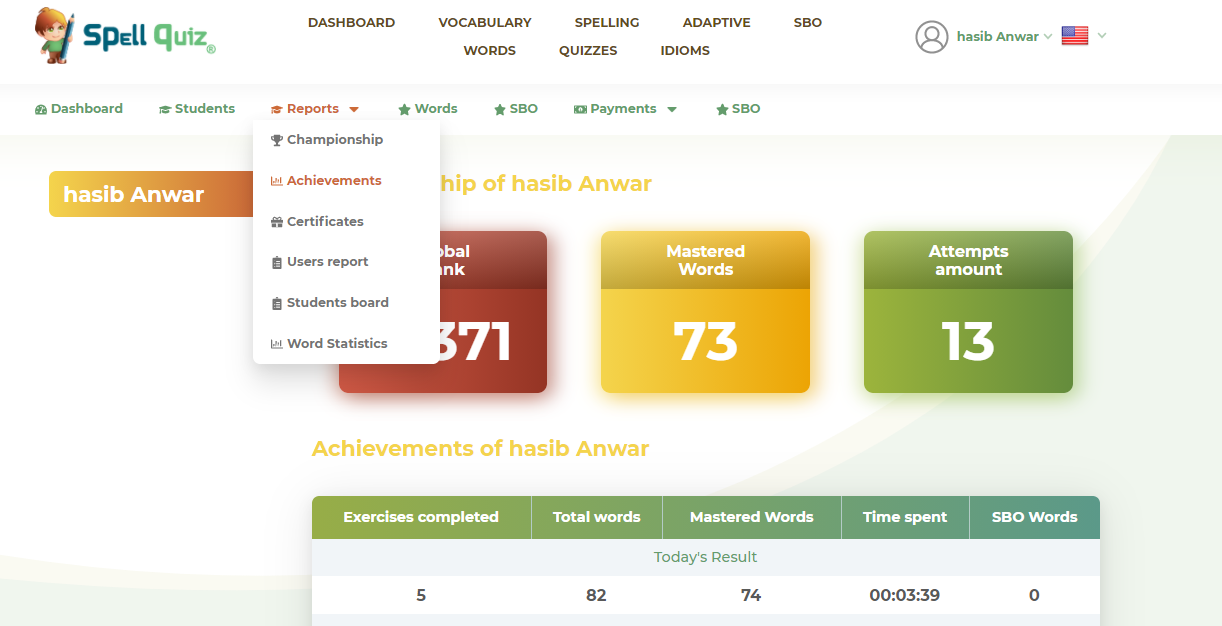 Video Tutorials
Compared to the written guides on how to use the website of Spellzone, SpellQuiz uses video tutorials. Also, in the video library, students can learn about interesting spelling tips and tricks.
This is big advantage of using SpellQuiz over Spellzone.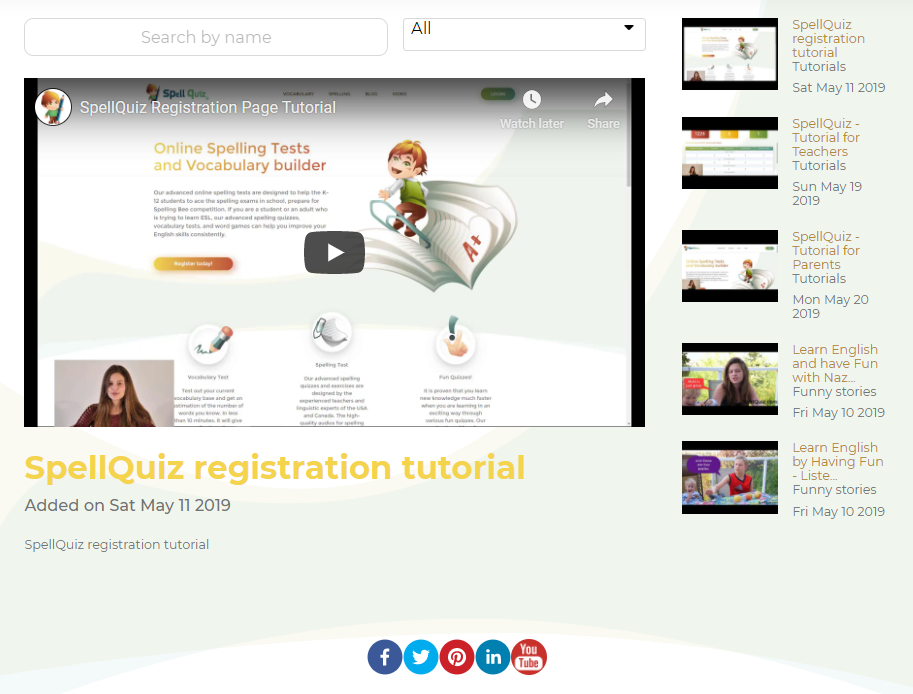 Online Spelling Bee
Spelling Bee Online (SBO) is a unique feature of SpellQuiz where students from all over the world can participate in the virtual spelling bee competition. This feature not only makes them better prepared for the actual competition, it also induces fun and thrill to the learning process.
The best part is that SBO section is completely free!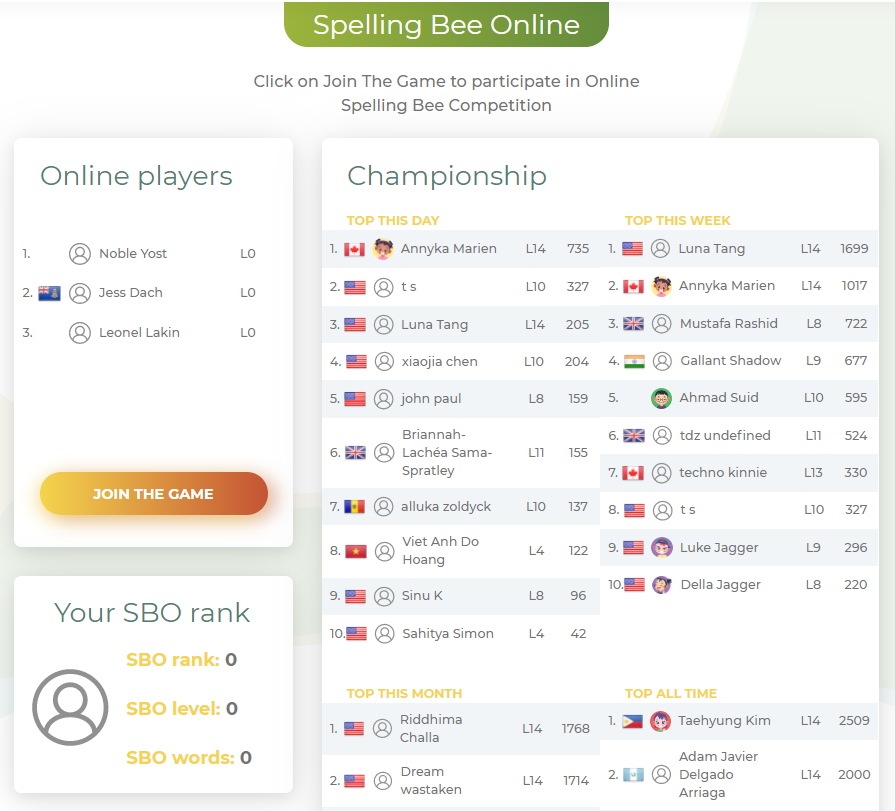 SpellQuiz is NOT Just for Spelling
SpellQuiz boasts of two special features that go beyond spelling. First of all, students can participate in the fun quizzes that teaches them word origins, conditionals, geography, and many other things.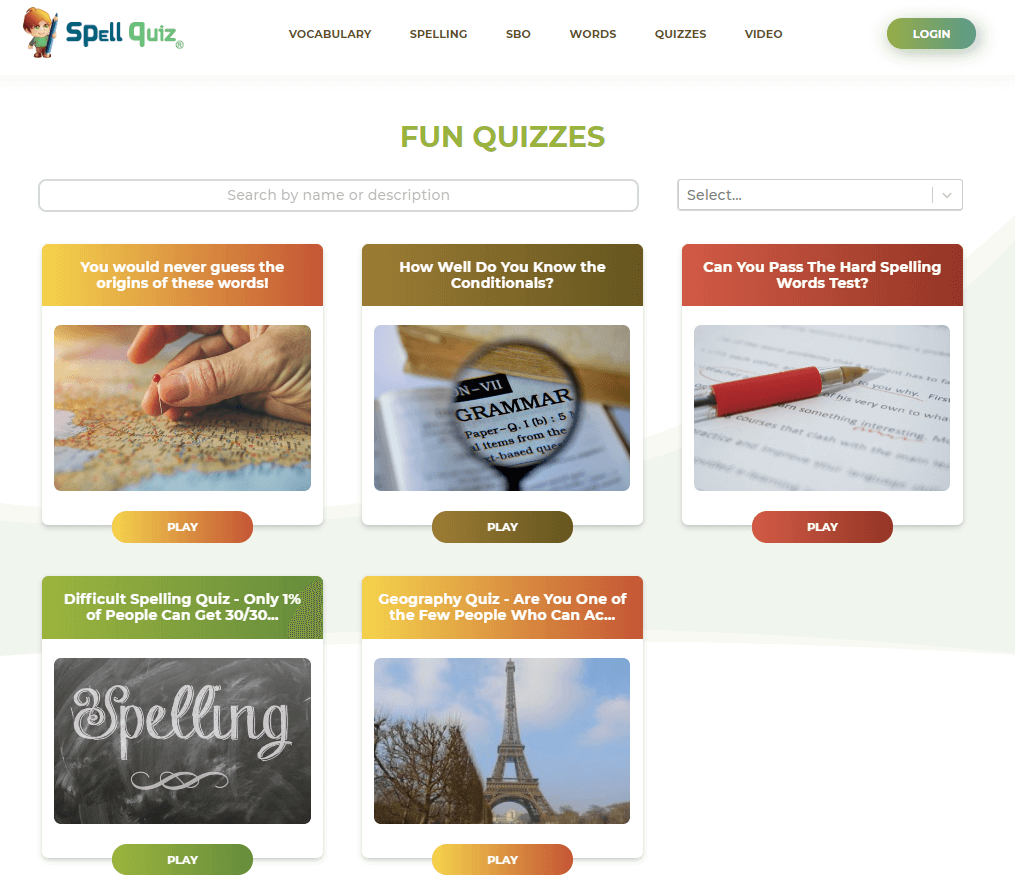 The next is the Idioms section — which is a new feature SpellQuiz. Here, students can understand common idioms and phrases with examples. The images, meanings, and references come together to help the students memorize the idioms faster.