There is no point in learning new words if you are going to forget the old ones and need to learn them again. This way, it would be an endless cycle of learning the same thing without any actual benefit.
So, it would help if you found a way, such as vocabulary review activities, that can prevent forgetting old words.
In this article, we will discuss vocabulary review activities that can be used regularly. You can also use them as vocabulary exercises as well as vocabulary assessment tools.
So, let's get started!
Is Daily Vocabulary Review Activities Necessary?
Most of the time, we focus more on vocabulary learning and keep the review activities for the end of the semester. But it would be more efficient if teachers make vocabulary review a part of their daily lesson plan or at least weekly.
It might sound like a hassle but reviewing the vocabulary words daily would help you in several ways.
It will reduce the monotony of learning. No one likes to read the same list repeatedly. Instead, give them a list of words first to learn the words and then use exercises to help them memorize the words permanently.
Also, vocabulary review activities don't take much time. For example, ask the students to stand up. Say a word from the vocabulary list and ask for a definition. Whoever gives the correct definition will sit down.
You can also ask for synonyms or antonyms if they are part of your vocabulary learning. This is a quick and fun review activity you can play at the end of your class. I'm pretty sure the students will like it too.
Vocabulary Review Activities
Now, what type of activities would we be using in class?
Below are some engaging vocabulary review activities ideas for you to use in class and at home. Don't choose only one of them, instead, try all of them. You can even mix different activities or create your own.
Think outside the box. Can you make a review activity that students can perform at home? You can use them as homework!
One clever strategy is to monitor which review activity is most liked by the students. Try to use them more in the class.
Traditional Fill in The Gaps
Traditional and effective, fill in the gap exercises are hard to beat when it comes to vocabulary review. You can use different types of fill in the gap activities for your students.
Also, you can give them independent sentences or a paragraph. You can give them a list of words that will be used in the exercise, or they can guess on their own. If you are giving a list, add some extra words to confuse them.
This activity also plays a part in learning the language. The student will have a better knowledge of the use of the vocabulary word in a sentence. They will learn about context which will give them the confidence to actively use the word.
Theme Based Word Web
Take a paper and write a theme word (Home, Job, Sports) in the middle. Now start writing words related to the theme word and draw lines between them to connect. You can choose one of the related words as your theme word for further expansion.
For example, which words are related to Home'? Roof, Wall, Window, Door, Furniture etc. Now Furniture' can also be a theme word and related words would be Chair, Table, Lamp, Sofa, Bed etc. Again, what other words are related to Home'? Bedroom, Living Room, Kitchen etc.
Then you can choose Kitchen' as another theme word. This activity would be enjoyable to students of all levels. For advanced level students, choose the theme word carefully because Home' or Kitchen' would be too easy for them. Instead, you can choose Emotion', Law and order' etc. as your theme word.
Check the example below for a clear idea: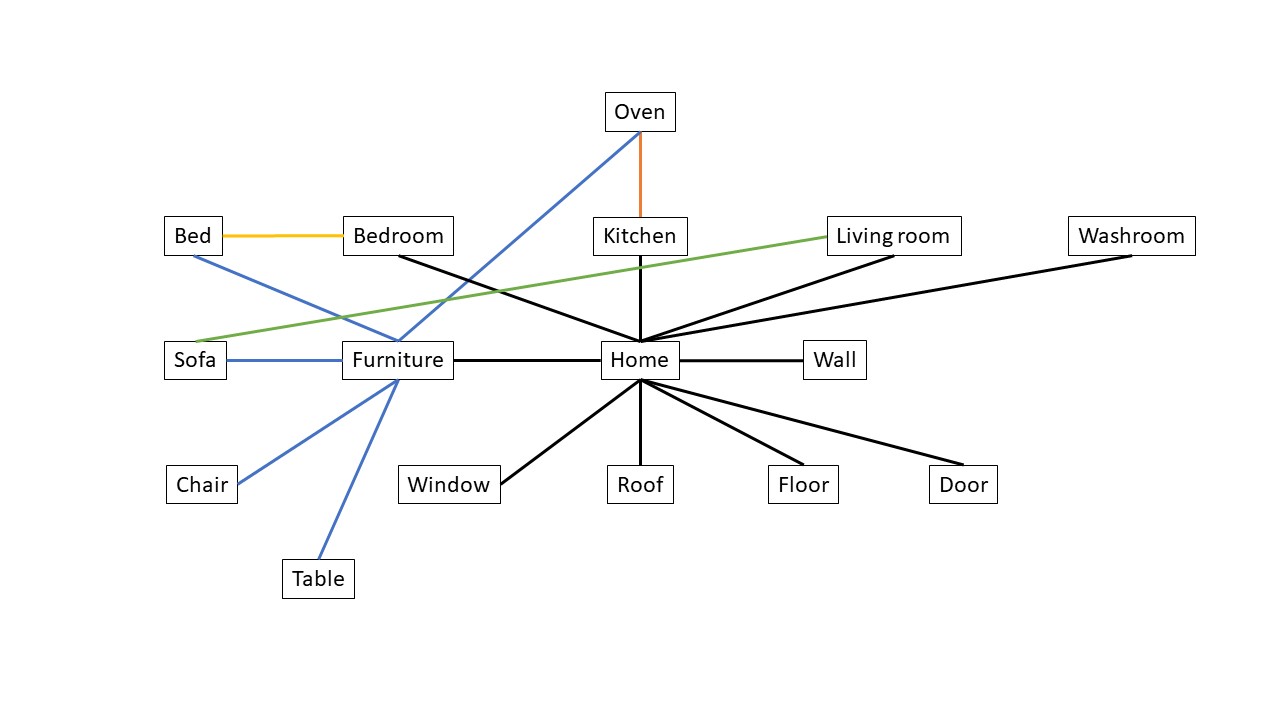 If you are a teacher, divide your students into groups and give each group a paper. The group that writes the most word correctly will win. You can add these papers to your vocabulary board also for future reference. It can also be a fun activity for students at home.
Conversation
Just like filling in the gaps, holding conversation using the newly learnt words also give students an idea about the context.
But that is not all. Speaking practice is an amazing way to improve language, especially speaking skills. Many students, no matter how good they are at reading or writing, feel uncomfortable when speaking in a foreign language. Conversing in English will boost their confidence level.
Memory Card Games
Take two sets of cards. On one set, write the vocabulary words, on the other set, write definitions of the vocabulary words. Now, you can play several types of games using these sets.
Shuffle the cards and place them in a 4x4 or 6x6 grid pattern, depending on the number of cards. A student will turn two cards. If they match, the cards will be out of the grid. Moreover, if they don't match, the student will turn them over again and try to match. If several students are playing, then if a student fails to make a match, then the next student gets a chance. If they make a match, they will get an additional chance.
Divide the students into two groups. One group will have the word cards, and another will have the definitions cards. A student from a group will read the card loudly and another group will find its match from the cards they have.
You can also write the synonyms or antonyms of the word. In that case, give the instruction beforehand or mention on the card that the written word is the antonym or synonym of the selected word.
Acting Out Words
Write the vocabulary words on cards, each card containing one word. Put them in a box.
Divide your students into two groups. A student from each group will pick up a card from the box and act out the word on the card. There will be a set time for acting for each word. The group clearing the most word will win.
This game can be played in various ways. If a group is unable to guess a word within the given time, the other group can have a chance to guess. Also, you can choose an equal number of words for each group. The group that takes the least time to complete will win. You can divide them into more than two groups.
Pictionary
Pictionary is a classic enjoyable game for vocabulary review. It's just like the Acting out game, but instead of acting, the students must draw on the board to make their teammates understand. The rule is that they cannot use letters, numbers or symbols that can give away the word. The teacher should monitor the drawing to make sure the rule is not being violated.
If you're interested in some fun activities to enrich your child's vocabulary then you should definitely try out some vocab rhymes. 
Online Vocabulary Activities
Online vocabulary games are engaging, and students love them a lot. So, why don't you use them for vocabulary review? Check out these online vocabulary games to use in your classroom:
Spelling City
When it comes to online spelling practice platforms, Spelling City is considered a pioneer. They have over 40 types of word games aimed to improve the student's vocabulary and spelling skills. They also provide word lists suitable for students of all levels, from kindergarten to K-12. Please check the Spelling city review for detailed information.
ABCMouse
ABCMouse is one of the most well-known online education platforms. There are over 10,000 learning activities for teaching your child different core subjects such as math, science etc. The platform is mostly for pre-school learning. Here, in the ABCMouse review, you can find more about its features.
SpellQuiz
Quizzes are an entertaining way for vocabulary review and SpellQuiz offers different types of quizzes to assess your spelling skills, vocabulary range, grammar- basically your overall knowledge of English.
SpellQuiz Vocabulary Test evaluates one's vocabulary range and assigns them a grade according to their skill. This test is particularly useful for someone who wants to understand the current state of their skill.
SpellQuiz Spelling Test is a useful tool too. In this test, a student will listen to an audio clip containing a complete sentence and they need to write it with accurate spelling. The test is divided into grades so that you can have an appropriate test for your level.
SpellQuiz also provides printable word lists for pre-kindergarten, kindergarten, students in grades 1 to 12, and adults. There are multiple word lists for each grade. There are separate word lists for spelling bee competitions which students can use to improve their vocabulary range.
SpellQuiz Spelling Bee Online is a spelling bee competition held online where students around the world compete against each other. Encourage your students to join the competition so that they can show their potential on a global platform. If they are nervous, they can take SpellQuiz Practice Test first. This will give them an idea about the online environment also.
As a teacher, you can monitor the progress of your students via the dashboard. There are various subscription plans for teachers depending on the number of students. But before purchasing anything, try the 14-day trial period to explore all the features to make a decision.
If you are planning a daily vocabulary review, make sure it doesn't take much time. If you want to use the time-consuming activities, you better plan that lesson for review only. Try to make the activities more engaging and enjoyable so that students don't feel pressured.
Happy learning!